"The Relay" Online Newsletter
March 2023 Issue
This is the monthly online newsletter for the car club council. All car hobbyist events are listed on this site under "Calendar." Just click on the link above to view the list of car shows and other activities.
President's Message
This month we have another full newsletter with info on the General Assembly bills and of course on the hottest topic of car hobbyists - the push to get us into EVs. The Assembly - by one vote in a Senate committee - has continued to commit Virginia to limit the sales of gas/diesel vehicles. By forcing California rules on us no new gas/diesel vehicles can be sold in Virginia beginning in 2035. By 2026 35% of new vehicles sold must be EVs and the number will increase until the ban on ICE vehicles in 2035. The Northam administration and members of the Assembly in 2021 surrendered Virginia's state sovereignty to California. A poll commissioned by Centrist Democrats of America shows 62 percent of Virginians (45-40 among Democrats) want Virginia to write its own rules rather than those of an unelected California regulatory board. But no that one committee in the Senate didn't listen to reason.

Also bad is the fact that cops still cannot pull people over for certain equipment violations and even if the cops do stop someone they are limited in what they can do if they find certain laws have been violated. And while a couple of bad exhaust bills were killed one passed that will require the State Police Superintendent to convene a work group to look at vehicle noise in the state. Those "sound people" as I call them won that one. Read the article below to get the full info. I'm not sure what will come out of that work group but I do know that they are not required to report any findings or recommendations which is what I hope they do.

I have several interesting articles on EVs including one from Motor Trend where people who work there actually drove and lived with EVs and it is worth reading. Most of the automotive press is just as dumb as the main stream media. The auto press keeps pushing how wonderful EVs are and keeps picking them for vehicles of the year and other awards. I'm getting sick of reading in just about every car magazine how electrics are the future and how wonderful they are. And no your EV cannot power your house and no EV batteries cannot "hold" electricity for the grid. Just like the TV "news" a lot of what you are told about EVs is simply not true. That is where the Motor Trend article comes in as it is from people who have actually used an EV. When people tell me that "electric vehicles are the future" I tell them to go buy one. So far no one has.

The 4th Annual Breakthrough Car Show and 28th anniversary of the council is coming on May 13. Full into at Car Show site. The calendar is getting full and it looks like we are going to have more car events than last year.

~ Fred
Next Meeting
The next meeting will be Monday, April 24th at 6:30 PM at a location to be listed in the April newsletter.

It's Spring! Get out and drive!
Car Hobbyist News
This month we have a partial wrap up on the General Assembly bills. Keep in mind the governor can veto or amend the bills that have passed both houses. Here are the most important bills. The ones on whether we will go along with California guidelines on what vehicles can be sold in Virginia. Currently 35% of new vehicle sales must be EVs by 2026 and all gas/diesel vehicles sales will be banned by 2035. Those bills were killed by one vote in a Senate committee – see "Senate Committee Kills Bills - Virginia Must Follow California Law On Vehicle Sales" below. Bills to get rid of an existing law that prevents the police from stopping vehicles with a light out or other defective equipment have all been killed in the Senate. And the exhaust bills were killed except for one that requires a study – see "The Sound People – SB 1085" below for a complete report.

Here are the bills from last month's column with their fate.

A bill that would allow permanent farm use placards in place of the temp ones has passed both houses.

Bills on towing (again this session) were mixed with a couple passing and a couple failing.

Bills that if a drunken driver kills a parent then the driver is responsible for child support for the child of the killed parent failed again this year.

A bill has passed that will allow toll operators to get the personal information on people who didn't pay a toll.

There is a bill in the House and one in the Senate to establish a Virginia Museum of Transportation. Both bills were killed in the Senate. This is the second year for this proposal.

The bill to train firefighters on electric vehicle fires has passed both houses.

The bill that will prohibit the use of headlights on motor vehicles, motorcycles, autocycles, bicycles, electric personal assistive mobility devices, personal delivery devices, electric power-assisted bicycles, mopeds, and motorized skateboards or scooters with aftermarket modifications that make such headlights appear as a blue light has passed both houses.

The bill to end the mileage-based user fee to replace the gas tax for certain vehicles did not make it.

There is a bill to allow the crushing of vehicles without a title if sold by an insurance company to the junkyard and it has passed both houses.

A bill to increase the local fee for a vehicle without license plates has been killed in the Senate after passing the House.

Bills that would make it a Class 6 felony to sell or purchase a catalytic converter detached from a vehicle unless you are an auto recycler have passed. Good luck on buying a used one from a private seller.

Bills are requiring EV charging equipment in developments have been killed.

All car related bills are listed on the VAACC website at vaacc.org/legis1.html

Check them out ~ Fred

61st Annual Festival of Rods and Customs Indoor Auto Exhibition by the Asphalt Angels Car Club - February 3 - 5 ~ see all the photos at Album - opens to a new window
Senate Committee Kills Bills - Virginia Must Follow California Law On Vehicle Sales
From The Thomas Jefferson Institute for Public Policy:
The Senate, meanwhile, has defeated repeal of the "California Cars" law, keeping you on track to purchase an electric car or truck in the next ten years or so – whether you want to or not (here). The Left wins because of unquestioning commentaries like this one, claiming the law "will gradually require more electric vehicles to be sold," without mentioning "more" means "100 percent," the cost, or the limitations on consumer choice. As former Popular Mechanics editor James Meigs notes, the promise of electric vehicles is vastly oversold (hooking a camper to a Ford F-150 reduces the range to 90 miles, for example) (here). But worry not: Over at The Wall Street Journal, Allysia Finley notes the climate crusaders are coming for electric cars too (here).

From that Wall Street Journal article: "Replacing all gasoline-powered cars with electric vehicles won't be enough to prevent the world from overheating. So people will have to give up their cars. That's the alarming conclusion of a new report from the University of California, Davis and "a network of academics and policy experts" called the Climate and Community Project.

The report offers an honest look at the vast personal, environmental and economic sacrifices needed to meet the left's net-zero climate goals. Progressives' dirty little secret is that everyone will have to make do with much less—fewer cars, smaller houses and yards, and a significantly lower standard of living."

You can see the report at this link: Achieving Zero Emissions with More Mobility and Less Mining.

Yes, they want to CONTROL every aspect of YOUR life. That's what this is all about. Our "leaders" have given up our state sovereignty to California. People we never elected. People we do not know, people who don't care about us are making decisions for our state and its citizens. Surveys have found that most people want their own state leaders to make the laws, not some other state government. This is a big deal and should be.

The bills that would have taken back the right of Virginians to make decisions on the vehicles they purchase were all defeated in one Senate committee by ONE VOTE! The democrat members voted to keep California making our rules while the republicans wanted our state to make the rules. Currently the House has a 4 person republican majority and the Senate has a 2 person democrat majority. A friend of mine who is a registered lobbyist told me the democrats in the Assembly feel they can keep the Senate and take back the House this fall. In November we will vote for House and Senate members. The results will be very important to the future of this state and our own futures.
The Sound People – SB 1085
One of the bills introduced into the General Assembly this year that worried me was SB 1085. Here is the original bill:

§ 46.2-1049.1. Limitations on exhaust system noise level.
No person shall operate any motor vehicle, moped, or motorized skateboard or scooter with a gross weight of 10,000 pounds or less with an exhaust system that emits noise equivalent to noise in excess of 85 decibels as measured from a distance of 50 feet (i) on any highway; (ii) in any driveway or premises of a church, school, recreational facility, or business or governmental property open to the public; (iii) on the premises of any industrial establishment providing parking space for customers, patrons, or employees; or (iv) on any highway under construction or not yet open to the public.

§ 46.2-1165. Regulations for inspection of vehicles; posting.
The Superintendent shall promulgate regulations for the inspection of motor vehicles under this title and shall furnish each official inspection station with a printed set of such regulations suitable for posting. Such station shall post the regulations in a conspicuous place in the portion of its premises where inspections are made and shall cause its employees making official inspections to be conversant with such regulations. Such regulations shall require the inspection of motor vehicles for compliance with § 46.2-1047.

Allow me to point out some things about this bill. First the impact statement or what it will cost the taxpayers:
Fiscal Implications: According to the Department of State Police (VSP), the enforcement of the noise limitation proposed in the bill is expected to have a fiscal impact of $138,000 the first year and $69,000 the second year to purchase decibel meters for the enforcement of the noise limitation. The year one cost is based on equipping all 1200 state troopers with a decibel meter, which costs $115 per unit. The year two cost is based on required annual certification of the decibel meters for evidential purposes. It is anticipated that this proposal will have a fiscal impact on local law enforcement agencies, however there is not enough information to estimate the amount it will cost each local law enforcement agency.

Not only will the police have to purchase and be trained on decibel meters but all the state inspection stations would have to purchase them and test vehicles for noise. This will mean more work for the same inspection fee. Years ago SEMA tried an exhaust bill with a higher decibel limit and the bills were soundly defeated because of cost. Of course the cost to legislators doesn't matter since it's only taxpayer money.

This bill was sponsored by Senator Adam P. Ebbin (D) - Senate District 30. The top of his website states: "progressive leadership for Alexandria, Arlington and Fairfax". Here is a paragraph from his website:
A native of Commack, New York, Adam has resided in Alexandria since 1989 and is a 1985 graduate of American University in Washington, DC. He was a Fellow with the Flemming Foundation for Legislative Leadership in 2006 and at the University of Virginia's Sorensen Institute of Political Leadership in 2000. In 2012, Adam was also a Fellow at Harvard University's Kennedy School program for Senior Executives in State and Local Government.

When the bill got to the Senate Transportation Committee a substitute bill replaced it:
That the Department of Transportation shall convene a work group to examine the issue of vehicle noise in the Commonwealth. The work group shall include representatives of the Department of State Police, representatives of other relevant state agencies, and relevant stakeholders, including the Virginia Automobile Dealers Association, the Alliance of Automobile Manufacturers, the Virginia Sheriffs' Association, the Virginia Association of Chiefs of Police, and the Virginia Association of Commonwealth's Attorneys. The work group shall complete all meetings and report its findings and recommendations, if any, to the Chairmen of the Senate and House Committees on Transportation by November 1, 2023.

Note that the people who run businesses that sell and install exhaust equipment, the people who run inspection stations and the people who buy exhaust parts were left out – on purpose.

After passing the Senate the bill headed to the House where the Transportation Committee there replaced it with a substitute bill:
That the Superintendent of State Police shall convene a work group to examine the issue of vehicle noise in the Commonwealth. The work group shall include representatives of the relevant stakeholders. The work group shall complete all meetings and report its findings and recommendations, if any, to the Chairmen of the Senate and House Committees on Transportation by November 1, 2023.

Note that the Superintendent of State Police replaced the Department of Transportation and the representative groups were not named.

It looks like the bill is going to pass. This work group could come up with anything but it still would have to be introduced as a bill and go through both houses of the Assembly and then signed into law by the governor. I'm curious about the selection process for the members of this group. It is interesting how we have gone from the SEMA bill – where one member of the House told me "we cannot afford to put decibel meters in the trunk of every police car in the state" to actually considering a decibel meter test for state inspections.

So what is this about? We know that state law is now trying to force people in quiet electric vehicles by mandating the percentage of EVs sold. EVs are quiet and they are "the future" so why this bill?

Years ago I was invited to participate in a sound forum. There was a group of people in Richmond concerned about noise. I attended as the "car rep" and I sat next to a man who was the "motorcycle rep". We quickly found out we were there to be picked on by the sound people. There were several city officials at the meeting. The sound people wanted super quiet motor vehicles of all types. They even complained about the noise made by garbage trucks and wanted the city officials to do something about them – let the trash pile up but it will be quieter?

This is all part of the plan to control us. They want to make us drive around in vehicles so quiet that pedestrians and bicyclists can't hear them. They just want to CONTROL every facet of our lives. These people are sick. Anyone who wants to control the lives of others, make them do their bidding is sick. This is a free country where we should be able to buy what we want and do what we want.

I certainly hope the work group decides to make no recommendations.

Mid Winter Blues Cruise - February 18 ~ see all the photos at Album - opens to a new window
Hagerty Insurance Wants You To Pay A Company To Plant Trees To Offset Your Antiques' Emissions
I've had Hagerty Insurance on my antique vehicles for over 20 years. I also get their magazine which is a great mag except for the articles on new electric vehicles – they do such a fluff job on how wonderful they are – well give up all your gas vehicles, buy only EVs and LIVE with them EVERYDAY and see how you like that.

Now Hagerty is flooding email boxes with a plan to pay a company called Chrome Carbon to plant trees to offset your antique's emissions. Here is the website www.hagerty.com/carbonoffset and here is the Chrome Carbon website chromecarbon.cc

You go to either of those sites and use a calculator that uses mileage driven per year, vehicle type and estimated miles per gallon to calculate the carbon dioxide produced and it tells you how many trees you need to pay Chrome Carbon to plant to offset your vehicle emissions.

I got some new for these people – carbon dioxide is not what the media and government tells us it is – it is not a greenhouse gas that is destroying the earth. If there were no carbon dioxide all life – both plant and animal would die. It's part of nature's master plan. Animals exhale carbon dioxide and plants take it in to produce green leaves, fruits and vegetables which the animals can eat. When there is a lot of carbon dioxide in the air there are more green plants because it is like fertilizer for them.

And then there's this – why is Hagerty, a company that makes a lot of money because of antique vehicles, telling the world how bad they are for the environment when they aren't. The biggest environmental impact produced by vehicles comes from them being built. Keeping an older vehicle healthy and on the road is actually helping the environment.

From the website:
The fact is, driving the vehicles we love produces carbon dioxide, which has a negative impact on the environment (I need to see proof). And while it's true that collector vehicles represent a tiny fraction of the emissions generated by the global transportation sector (then go after airplanes and other major polluters and not antique vehicles), we are committed to helping steer the future toward a cleaner, healthier planet where we can continue enjoying the things we love — like getting out on the open road.

That's why we're proud to introduce the Enthusiast Carbon Offset (ECO) program. Thanks to a partnership with Chrome Carbon, perhaps the only carbon reduction and reforestation program started by and for automotive enthusiasts (to make money), we're offering our car lovers the opportunity to easily calculate their carbon footprint and take tangible steps to help offset it

Join us as we drive toward a future filled with fun cars and beautiful places where we can enjoy them.

This is anti-hobby stuff and Hagerty shouldn't be doing it. We can plant our own trees and other green plants without paying someone who hopeful does it. And stop it, just stop dumping this environmental guilt thing on we car hobbyists.
Is Virginia Ready for Mandated Electric Vehicles?
By Chris Braunlich - Chris Braunlich is president of the Thomas Jefferson Institute for Public Policy.
In all of Virginia, Northern Virginia – with its urbanizing and wealthy population -- is the place where electric vehicles are most likely to be popular.

But will a population demanding choices support having no choice? That's the requirement of a law passed in 2021. Does the Commonwealth have the capacity to seriously switch to 100% electric vehicle (EV) sales by 2035 … without being a detriment to Virginians ?

The current data outlook says "no." A bill to repeal the law, HB1378, has passed the House of Delegates and is on the way to the State Senate. Virginia's lawmakers should approve it.

According to the Virginia Department of Motor Vehicles (DMV), there were 8.5 million vehicles registered in the Commonwealth in 2021. Only around 30,000 of those vehicles were electric. Moreover, the state has only 1,181 public charging stations with 3,435 EVSE ports currently available. Considering most of these charging stations are Level 2s, which can take around eight hours to fully charge a vehicle, replacing more than eight million internal combustion-engine vehicles with EVs is unsustainable.

While it is true that Virginia will be installing more charging stations on highway corridors, drivers will have to share these stations with everyone else on the road -- unless they opt to install a charger at home. The new charging infrastructure, however, won't be cheap. According to NeoCharge, the total cost of installing an EV charger can range anywhere from $800 to $4,000. That number doesn't include the electricity bills incurred when charging the actual vehicle. And rural Virginians who don't have easy access to highway corridors and may not be able to install their own chargers, have been effectively ignored by this legislation.

Millions of new EVs will also result in a significant drain on our power grid. The average electric vehicle requires 30 kilowatt-hours to travel 100 miles. That is the same amount of electricity the average household uses each day to run appliances, computers, lights, heating, and air conditioning. If every driver starts consuming this much electricity regularly, the U.S. Department of Energy predicts that the national consumption of electricity could increase by as much as 38% by 2050. Where is all of this additional electricity supposed to come from?

The strain that would be felt by our state's electric grid would be astronomical. Currently, our electric grid is primarily powered by natural gas and nuclear energy, but it also includes power generation from renewable energy sources. However, many of these renewables, such as wind or solar power, are not able to be sufficiently stored for electrical generation down the line. According to Roy Nutter, a Computer Science and Electrical Engineering professor at West Virginia University, "power storage will be required if we are going to move toward fickle power sources such as solar and wind. Solar does not work at night. The wind doesn't blow all the time." Virginia does not have enough power storage capacity to do this on a large scale.

Simply put, if we are unable to improve the Commonwealth's power storage to provide for EVs, the grid won't be able to handle it. The result will be Virginia looking like California, which asked its citizens not to charge their cars amid a heatwave last summer--just days after announcing the switch to 100% EVs.

No matter your beliefs on the subject, the data doesn't lie -- Virginia isn't ready for the Clean Cars law, which currently mandates that 35 percent of all new cars and trucks sold by 2026 must be electric; 100 percent by 2035 If the Commonwealth expects to see a 100% EV future, enormous, costly changes must be made, and at the current rate, we won't be ready by the 2035 deadline.

If Virginia's elected lawmakers value sensible and realistic efforts to improve Virginia, they should unanimously support repealing Virginia's Clean Cars law. There are ways to make Virginia greener, but this initiative is both counterproductive and unrealistic.

Scottsville Cruise - February 23 ~ see all the photos at Album - opens to a new window. Photo by Ron Clark.
AAA Issues Alert to Drivers After 'Do Not Drive' Notice Issued
From The Epoch Times.
The AAA issued a notice to drivers Friday to check their vehicles for recalls after Honda recently issued a "do not drive" warning for vehicles that haven't received repairs for Takata Alpha air bag inflators.

"Ignoring Takata air bag recall notices can have fatal consequences," the Northeast AAA said in a news release to multiple news outlets Friday. "Last June, a 2006 Ford Ranger owner in Florida was killed in a minor crash when an unrepaired Takata air bag inflator exploded. That vehicle was subject to a 'Do Not Drive' warning at the time of the crash and Ford Motor Company said that more than 100 recall notices were mailed to the owner and a representative visited the owner in person."

Earlier this month, Honda Motor Co. issued the "do not drive" warning for Acura and Honda vehicles with unrepaired Takata air bag inflators in the United States. The urgent warning covers various 2001–03 models of the Honda Accord, Civic CR-V, Odyssey, and Pilot as well as the Acura 3.2CL and 3.2 TL vehicles with so-called "Alpha" inflators.

The National Highway Traffic Safety Administration (NHTSA) previously stated that owners of those vehicles should not drive them until they get repairs, warning "the risk to vehicle occupants is dire."

The NHTSA also issued an alert last month that a recent death of the driver of a 2002 Accord in Bowling Green, Kentucky, was due to a faulty air bag inflator. Honda has reported 17 U.S. deaths and more than 200 injuries in the United States related to Takata inflator ruptures over the years.

"These vehicles are 20 to 22 years old now, and the risk to vehicle occupants is dire. Alpha air bags are some of the oldest under recall, and they have a 50 percent failure rate. If the inflators rupture, the metal fragments ejected toward the driver's face could kill or leave them with devastating, life-altering injuries," the NHTSA wrote in a release this month, elaborating on the possible danger drivers face.

More than 30 deaths worldwide—including at least 23 U.S. fatalities—and hundreds of injuries in various automakers' vehicles since 2009 are linked to Takata air bag inflators that can explode, unleashing potentially deadly metal shrapnel inside vehicles. Over the last decade, more than 67 million Takata air bag inflators have been recalled in the United States by more than 20 automakers and more than 100 million inflators worldwide, in the biggest auto safety callback in history.

"If you have a vehicle with a recalled Takata Alpha air bag, you must get it repaired now–for free. These inflators are two decades old now, and they pose a 50% chance of rupturing in even a minor crash. Don't gamble with your life or the life of someone you love–schedule your free repair today before it's too late," NHTSA Acting Administrator Ann Carlson said in the release.

Drivers can check to see if their vehicle is under recall by going to the NHSTA recall website

.

1971 Camaro
Road Trips in Our Long-Term EVs Have Been … Interesting
From Motor Trend.
Broken chargers, full charging stations, single-digit temperatures, and optimistic range estimates have tested our patience.

While winter has seen many travelers stranded at airport check-in counters this year, MotorTrend editors have been braving the open road in our expanding fleet of long-term electric cars, trucks, and SUVs. During road-trips, MT's Slack channels often become a de facto logbook of our exploits, capturing the headaches and small victories of long-distance EV driving in real time. Here's a lightly edited look at how our drivers have fared in the 2022 Ford F-150 Lightning, the 2022 Rivian R1T, the 2022 Volkswagen ID4, the 2022 Lucid Air Grand Touring Performance, and the 2023 Hyundai Ioniq 5 when holiday travel peaked, the weather and temperatures turned nasty, or they simply headed to far-flung destinations.

2022 Volkswagen ID4 Pro | Head Of Editorial Ed Loh

Road-tripped from Los Angeles to Sacramento in the long-term ID4 yesterday. I charged to 100 percent at home and pushed to Harris Ranch [a popular charging spot along the busy I-5 corridor—Ed.], coming in hot with full bladders, 10 percent state of charge, and 24 miles of range. The latter was a bad idea. It basically left me with few options other than the chargers at Harris Ranch, and the Electrify America Level 3 DC fast chargers there were all full. Very busy travel day. I crossed the freeway to check out some ChargePoints, and what luck: The bank of three DC fasts were totally unattended—because they were busted. Next to those was a Level 2 6.5-kW ChargePoint charger that we jumped onto while evaluating options. If I stayed on the Level 2, it would have been 9 hours to get the charge we needed to make it to our destination.

So, I drove back to the Electrify America stations to wait on a charger, and thankfully one freed up immediately. Charged for 45 minutes, snacked, and left. While sitting in the ID4, I saw about six EVs come creeping, waiting to charge. Average wait time was 7 to 10 min (thank goodness for charger-squatting penalties). Saw two Rivian R1S's, two Hyundai Ioniq 5s, one Chevrolet Bolt, and one Kia EV6.

The banks of Tesla Superchargers across the way were about 30 percent occupied and were very enticing. Tesla is still the long-haul charging user-experience king, and it's not close.

Generally, I've had good experience with Electrify America chargers, but I've only done two longish EV road trips this year—to Truck of the Year and this one. I get that there are issues, but EA has outperformed ChargePoint and EVgo for me. And I think Walmart's adoption makes a lot of sense. I was so relieved to pull into the various Walmarts to charge and see open chargers and a place to grab a snack.

2023 Hyundai Ioniq 5 Limited | Associate Editor Alex Leanse

Taking Highway 101 between Los Angeles and San Francisco instead of I-5 seems like the move for electric vehicle road-trippers. It's less direct but comparatively scenic, and crucially offers more charging options—in nicer places, to boot. Of course, it's not like charging stops in our new Hyundai Ioniq 5 let me venture far beyond the closest convenience store. My longest session took slightly over 30 minutes, during which time a 350-kW plug brought the battery from five to 92 percent. The Ioniq 5's 800-volt fast charging potential is a huge boon on a long drive, not to mention the crossover's comfort, quietness, and adept driver assist features.

Yet our 2023 SUV of the Year came nowhere close to delivering its claimed 266 miles of range. The 101 isn't flat, but the Ioniq 5's battery percentage would fall perilously into the single digits after about 200 miles traveled at the most; one charge started at 90 percent and drained to 2 percent in just under 150 miles. All of this was with cruise control set at 70 mph in the Eco drive mode and minimal climate control for only myself aboard. Next time I hit the highway in the Ioniq 5 I'll explore how different regenerative brake settings might stretch out a charge. Maybe that'll really allow it to stretch its legs.

2022 Lucid Air Grand Touring Performance | Technical Director Frank Markus
While Loh and Leanse didn't leave the confines of California in the ID4 or Ioniq 5, Markus had a more difficult go on his journey from Detroit to Memphis. Here are his dispatches from the road.—Ed.

Update 1: Hot tips for anyone road-tripping the Lucid: Bring a book, pack a lunch. The two EVgo locations I charged at were both A) a long way off the highway and B) nowhere near a bathroom or coffee shop. I relied solely on the Lucid nav to guide me, and there just must not be many 350-kW stations along the I-75/I-65 corridor.

When the second(brand-new) charger failed to deliver 350 kW as promised on the tin, peaking instead at 159 and quickly dropping with nary an EV in sight for miles around, I thought, "No problem, I'll bust out the Mi-Fi and edit a story." Nope! Just get going, and all sorts of error messages come up on the crashing laptop resting just 18 inches above a gigantic electromagnetic storm. More research will be forthcoming to find out what exactly happened to the laptop. Meanwhile, I wonder what the precious jewels positioned between said computer and the recharging battery have to say about all the radiation …

Update 2: The Memphis Winterpocalypse cometh: 5 degrees, wind, snow, glare ice, and idiots aplenty in hiked-up 4x4s spinning out. Arrived in town with 188 miles of range, made two 22-mile round trips to my parents' house, range dropped to 39 miles upon arrival the third day (with just 55 miles driven) and I thus entered turtle mode. Had to drive 9 miles heater off and feet freezing. Hooked up to 350-kW charger, nobody else around, and the station recognizes the car instantly and starts charging. At 7 kW. One hour and 45 minutes to full charge was the estimate while a "Charging limited by cold battery" message appeared. Apparently the Air's battery was not warmed by an hour of driving, during 40 minutes of which I had the cabin heat on at 65 degrees. Charge rate eventually maxed at 100 kW.

Also, running the heat torpedoes the range in town. I have busted out the 110-volt Level 1 charger and am using it to merely maintain charge in the 16-degree weather. When plugged in, the Air just shows 362 miles of range (far from its 446-mile rating) and 1 day, 16 hours to a full charge the whole time; 1 kW of charging just keeps the battery warmish and keeps it from losing range. It's an adventure!

Update 3: Widespread power outages across Memphis! I feel like if I spend another week here with this car I may start writing flaming letters to our own magazine about "these damned coal cars!"

Update 4: Finally made it home to Detroit. Total door-to-door time was 13 hours on the nose (2 hours more than the trip would take in a gas vehicle), including an extended charging session while the Lucid people talked me through a needed software reset after all the screens went dark in the Air, a 15-minute stop at a Kentucky booze store, and an extended second charging session due to the time it took to get a carry-out dinner. That extended last stop turned out to be a lucky thing, because it gave me enough extra cushion to do what I always do when I cross the Michigan border—drive 85 or 90 mph the remaining 80 miles or so to speed up the arrival time, which really burns down the battery. I rolled in with 37 miles (8 percent) left when the original projection was 130 or so. That EVgo DC fast charger in Cincinnati was the only one on the trip to approach the full 350 kW. Carefree long-distance EV road-tripping in America's heartland isn't a thing yet, in my experience.

It's concerning that so many of these "350-kW" stations maxed out at like 160 kW. Maybe it was the weather, but it was only really cold for a few days. I'd also be bummed if I was following the nav system's recommendations and then felt like I couldn't drive how I wanted without running out of juice. I don't think I'd attempt that 750-ish-mile trip in a day by myself again in an EV, while I don't think twice in an ICE vehicle.

2022 Rivian R1T Launch Edition | Features Editor Scott Evans

Cold-weather range loss has been a real issue for our long-term Rivian R1T, very nearly stranding us on an early spring camping trip in the mountains. With overnight temperatures dropping into the low 30s, the truck was losing more than 30 miles of range per day just sitting there. My wife and I barely had enough at the end to get to the nearest charger 17 miles away. Since then, though, Rivian has updated the R1T's software over the air with Camp mode, a new feature that among other things lets you completely power down the truck (except the keyless entry system) to reduce range loss.

On my holiday trip this past December, we were once again faced with overnight temperatures in the low 30s and daily highs in the 50s, very much like that camping trip that almost went wrong. This time, I engaged Camp mode and only lost 4 miles of range each night. On the camping trip, we lost 121 miles of range over four nights due to phantom drain. This time, we lost only 16 miles of range over four nights. Although our other EVs aren't experiencing phantom drain, the update is a massive improvement for Rivian, and all it took was fresh software sent to our truck for free over the cellular data network.

2022 Ford F-150 Lightning Lariat Extended Range | Features Editor Christian Seabaugh

Unlike my fellow EV chaperones, I was fortunate enough to stay local with MT's 2022 Ford F-150 Lightning. I imagine for most this would be an ideal use case for an EV, but for me it was a hassle. For a multitude of reasons (chiefly cost) I haven't been able to install an at-home Level 2 charger for our Lightning, and so I've been relying on Los Angeles' extensive public charging network. Over the past couple months, this hasn't been a major issue. I'll plug into a Level 2 or Level 3 public charger when out and about for a top-up; otherwise, I hit up a local 350-kW Level 3 fast charger every week and a half or so for a 30- to 60-minute jolt of juice.

This all worked fine until I found myself spending the past two weeks running errands and shuttling family around the Southland. Without a regular routine and with L.A. temperatures fluctuating wildly from the high 30s to low 80s, our Lightning's predicted range dropped drastically to about 260 miles per charge (down 60 miles or about 19 percent from the truck's 320-mile EPA rating), while my time spent worrying about fitting charging in around family time grew exponentially.

The issue, I suspect, is my current lack of a home charger. With one, I'd not only be able to start each day with a full charge, but I'd also be able to heat or cool the cabin via the FordPass phone app before setting off, ensuring I wasn't "wasting" range warming the cab. My charging habits support this. I wound up plugging in about a dozen times, covering 655 miles over a week and a half or so. I typically plugged in when the battery hit about 100 miles of range remaining (and with a 42 percent charge), and unplugged at 148 miles, with the battery reading about 62 percent. Considering I averaged 2.45 miles per kWh over the break—which should equate to about 320 miles of range—I'm hoping to see the Lightning's range estimates get smarter as I work to address my at-home charging needs.
EU Gives Final Approval To 2035 Ban On Sales Of New Fossil Fuel Cars
From France 24
The European Parliament on Tuesday gave its final approval to a ban on new sales of carbon-emitting petrol and diesel cars by 2035, with a view to getting them off the continent's roads by mid-century.

European Union member states have already approved the legislation and will now formally nod it into law at an upcoming ministerial meeting, despite opposition from conservative MEPs, the parliament's biggest group.

Supporters of the bill had argued to that it would give European carmakers a clear timeframe in which to switch production to zero-emission electric vehicles, and spur investment to counter competition from China and the United States.

This, in turn, will also support the European Union's ambitious plan to become a "climate neutral" economy by 2050, with net-zero greenhouse gas emissions.

"Let me remind you that between last year and the end of this year China will bring 80 models of electric cars to the international market," EU vice president Frans Timmermans warned MEPs.

"These are good cars. These are cars that will be more and more affordable, and we need to compete with that. We don't want to give up this essential industry to outsiders."

But opponents argued that neither European industry nor many private motorists are ready for such a dramatic cut off in production of internal combustion engine vehicles -- and that hundreds of thousands of jobs are at risk.

"Our proposal is ... to let the market decide what technology is best to reach our goals," said MEP Jens Gieseke, a member of the centre-right European People's Party.

Gieseke declared that arguments from Green and socialist MEPs that electric cars are cheaper to run had been rendered "null and void" by the crisis of soaring energy costs.

"In Germany 600,000 people work on ICE production, those jobs are at risk," he declared, urging the European Commission to rethink plans to also extend the ban to trucks and buses.

The EPP group warned of what it said would be the "Havana effect" – Europeans continuing to drive vintage fuel-burning cars after new sales are banned because they can't find or afford an electric.

Opponents also argue car batteries are produced abroad by Europe's competitors like the United States, but Timmermans argued that thanks to EU-backed investment European production would increase.

Green MEPs stressed the importance of the ban in reducing emissions and pollution.

Victory for the planet?

Karima Delli, president of the transport committee, declared: "Today's vote is a historic vote for the ecological transition.

"We will no longer, or almost no longer, have petrol or diesel cars on our roads in 2050 ... it is a victory for our planet and our populations"

Cars currently account for about 15 percent of all CO2 emissions in the EU, while transportation overall accounts for around a quarter.

In October last year, EU member states, the European Commission and parliament's negotiators agreed on a proposal to reduce CO2 emissions from new cars in Europe to zero by 2035.

In practice, in the final legislation, this means a halt to sales of new petrol and diesel cars, light commercial vehicles and hybrids in the bloc by that date, in favour of all-electric vehicles.

US green subsidies

Car-making giant Germany and conservative MEPs have been dubious about the new rules, fearing the burden of re-tooling their plants and retraining workers while global rivals have looser targets.

But the European car industry itself did not lobby hard against the law, with many firms already jockeying for position in the race to become electric vehicle giants.

Since the law began its journey through the EU legislative process, however, the United States has unveiled a huge plan to subsidise the green transition of its own industry with government hand-outs.

This has led to fears in Europe that its US rival will siphon away investment and jobs in electric vehicle and battery production.

Currently around 12 percent of new cars sold in the European Union are electric, with consumers shifting away from CO2-emitting models as energy costs and greener traffic regulations bite.

Meanwhile, China – the world's biggest automobile market – wants at least half of all new cars to be electric, plug-in hybrid or hydrogen-powered by 2035.

The law passed the Strasbourg assembly by 340 votes to 279, with 21 abstentions.

1955 Ford Sedan
The Briefs
A man ordered a Sausage McMuffin from the McDonald's drive-thru, and when he looked inside the bag the worker handed him, he found their "deposit." After showing some of the contents of the bag, which contains stacks of bills and change assorted in individual Ziploc bags, a shellshocked Vargas examines what was erroneously handed to him instead of his breakfast sandwich. "Why? There's a couple thousand dollars here," Vargas says, holding up a baggie full of $20 bills. "Like, why would they do this? Why would they give this to me?" Vargas took to TikTok to share his shocking discovery, knowing that he could easily take the money and leave the McDonald's workers in quite a bind. But, ultimately, he says he knows what he needs to do. "What the f---? Now I have to return it because I'm a good person, I guess," Vargas says, putting the money back in the bag. "How interesting." Pulling back up to the McDonald's, Vargas unbuckles his seatbelt and before he heads in, he asks the universe, presumably, "Why would you guys do this to me? You know how bad I want this money? Why put me in this situation?" After he walks into the store with his phone's camera still recording but pointed toward the ground, he approaches the register with a joke. "You guys laundering money around here?" Vargas says to a worker at the register who realizes he's returning the cash they had been looking for. Amid all the relieved reactions from staff that can be heard from McDonald's staff, one employee asks if they could give him a hug — which he accepts. Back in the car, Vargas reflects on his good deed. "I cut that short, but they were just all hugging me and thanking me," he says, adding that some folks were crying. "Free McDonald's for a month, I guess." "When I was driving away. They called me back in. They gave me $200," he says, smiling.

It took a week when it normally would have taken four days in a diesel truck, but an electric-powered Volvo semi owned by Swiss logistics company Krummen Kerzers picked up 20 tons of oranges and delivered them, then returned to the terminal—a 3000-km trip (1864 miles). Since there is no infrastructure for charging big trucks on the route, driver Balint Schnell had to recharge at car recharging stations, while also having to obey laws regarding the length you can drive without rest, stopping about 20 times total, says Electrek. That's the longest trip for a loaded semi on record, but we're sure Elon Musk has that record in his sights when his electric semis hit the road. But it demonstrates two things: An electric semi can deliver a distant load, and that Balint Schnell is a very patient man. And it kind of raises a chicken-and-egg question: What comes first, the trucks or their charging stations? —Steven Cole Smith

Matchbox diecast is celebrating its 70th anniversary. In 1953, Jack Odell, an English engineer and vehicle mechanic for the British Army in WWII, disrupted the toy vehicle business by introducing small scale, affordable diecast cars, produced in mass quantities. To commemorate the platinum anniversary, the brand is producing a line of limited-edition vehicles that features special platinum details. A portion of the metallic collection will be made from recycled zinc. More announcements on future 70th-anniversary plans to come later this year, in July 2023.

People called 911 to report dangerous, traffic-clogging, or otherwise simply baffling self-driving car behavior for 92 separate incidents in San Francisco during the last six months of 2022, according to a letter sent by local transit officials to a state regulator. Between May 29 and December 31, the city started getting a sharp increase in 911 calls about autonomous vehicles (AVs) blocking lanes and intersections, erratic driving, and "evasive maneuvers required by other road users," according to the letter. These incidents ranged from lasting a few light cycles to several hours. According to the letter, 15 percent of reported cases involved multiple Cruise AVs "in clusters that obstructed multiple travel lanes and directions of travel." Because these incidents happened between 10 pm and 6 am—the current limitations on operating hours—the blockades didn't have the disruptive impact they might have if they occurred during the middle of the day or rush hour. In total, 92 separate incidents were bad enough that someone called 911, but the letter notes it could have been far more because they occur "when few travelers are on the streets to observe them." A Cruise spokesperson says the company operates more than 100 AVs in San Francisco.

Ford is cutting prices across the entire Mustang Mach-E lineup. The move is meant to compete with Tesla, who recently dropped prices for many of its vehicles as well, according to the report from the Detroit Free Press. Depending on the model, prices have dropped between $600 and $5900, excluding destination fees. "We're not going to cede ground to anyone," Marin Gjaja, chief customer officer for Ford Model e (The company's EV division), told reporters on a conference call. "We'll continue to push the boundaries to make EVs more accessible for everyone." Ford noted that the price drops were in part because of the new tax incentives put into place by the Inflation Reduction Act. Those tax credits—up to $7500 for qualifying vehicles—went into effect at the start of this year. (Tesla's recent price cuts were also influenced by the new tax incentives coming online.) Ford has sold more than 66,000 Mustang Mach-Es since the model first went on sale in 2021. The Mach-E's production facility in Mexico is currently undergoing a revamp to handle increased production, and Ford says it will come back online sometime in the first quarter of this year. The goal of the revamped line is to take annual production from 78,000 units to 130,000. Bottom line - you cut prices during an inflationary period for one reason - they aren't selling. In addition Ford said it will drop the 25-unit annual EV sales cap at dealerships, and it is also reducing the costs of that EV certification program for dealerships by $10,000.

According to 9to5mac.com, the iPhone 14's Crash Detection system, designed to inform authorities if the owner has been involved in a serious car crash, has caused the fire department of the Kita-Alps, Nagano, in Japan to report 134 false calls between December 16 and January 23, "mainly" from the iPhone 14 Crash Detection system incorrectly triggering as the phones' owners go down the ski slopes. The site quotes Apple, describing what the Crash Detection system responds to—sudden speed shifts, abrupt changes in direction, cabin pressure changes, and loud sound levels—and the sensors it uses: "A new high g-force accelerometer senses extreme accelerations or decelerations up to 256 gs […] A high dynamic range gyroscope monitors drastic changes in a car's orientation […] The barometer can detect pressure changes caused by deploying airbags […] While you're driving, the microphone identifies the extreme sound levels of a collision." This array is causing false triggers when users are riding on roller coasters, and when they're skiing and snowboarding, says the New York Post.

A 34-year-old California man was arrested in Florence, Italy, on Jan. 26 after he drove his rented Fiat onto the Ponte Vecchio, a stone bridge dating from 1345 that spans the Arno River and is now a pedestrian walkway and shopping destination. SF Gate reported that the unnamed driver told police he couldn't find parking and didn't realize he was on the historic bridge. He was fined about 500 euros.

Murphy the ape statue was an "icon" at Design Emporium Antiques in Kensington, Maryland -- until he was stolen in the wee hours of Jan. 4, the New York Post reported. Murphy, made of cast iron and weighing 200 pounds, was hurriedly loaded into the bed of an "older model Chevrolet Colorado Z71," authorities said, as seen on a surveillance video. The suspect "pulled right up and had the bolt cutters ready" to cut the cable securing the sculpture. Shop owner Kristina Jamgochian said people would take selfies with Murphy. "It's my business and I feel violated," she said. A $10,000 reward awaits anyone who helps recover the gorilla.

Sure, your fancy SUV may have ventilated seats and Wi-Fi, but does it have electrified door handles? The Guardian reported on Jan. 25 that a new vehicle has hit the market targeted at the particularly fearful driver -- the Rezvani Vengeance. Costing up to $499,000, the Vengeance has bulletproof glass, strobe lights, wing mirrors that emit pepper spray and no back windshield -- instead, the driver can monitor a live video stream of what's going on behind the car. Sure to win you a popularity contest in the pickup lane at your kid's school, the Vengeance also has a loudspeaker so you can call to little Timmy without leaving the safety of your seat. Extras include bulletproof vests, helmets and gas masks. The Irvine, California, company teases potential buyers on the website: "Vengeance is yours." Wow.

A 31-year-old woman was charged with two counts of robbery and possession of a weapon (ahem) on Jan. 22 in Winnipeg, Manitoba, after a puzzling attempt to steal a pizza, the CBC reported. Around 3 a.m., she allegedly entered a crowded restaurant and demanded a pizza, brandishing a firecracker as a threat. She was denied the pie, so she lit the firework and ran off with a pizza. Outside the restaurant, she got into a cab, but the driver asked her to get out because she was being belligerent. When the driver stepped out of the car, she jumped into his seat and took off, dragging the 54-year-old several meters down the street. Officers caught up with the stolen cab and caught the pizza thief when she became stuck in a snowbank.

A dump truck driver in Contra Costa County, California, either couldn't read or didn't care when he barreled through a road closure barricade on Jan. 23, KTVU-TV reported, and ended up with his front left wheel in a sinkhole. The "road closed" sign was found beneath his vehicle, and the driver escaped without injury. Excessive rains have caused "flooding, mudslides, sinkholes and other issues" in the area, county officials noted.

Meanwhile, in willful disobedience of every mother's "wear clean underwear" edict, Timothy O'Rourke of Danville, New Hampshire, crashed his car on Jan. 25 and ran from the scene, wearing nary a stitch of clothing. WHDH-TV reported that officers found O'Rourke "running behind Main Street homes wearing no clothes and coated in his own blood." He was charged with DWI and resisting arrest, and presumably given some jail garb to wear.

On January 16, a drive-thru customer at a coffee shop in Auburn, Washington, wanted more than an extra shot, KCRA-TV reported. As the barista handed Matthew Darnell, 38, his change through the window, a surveillance camera caught him grabbing her arm and pulling her toward him as he fumbled with a zip tie. The barista was able to pull away from him and close the windows as his dollar bills went flying. He drove off, but a distinctive "Chevrolet" tattoo on his arm was captured on video, along with his side profile. Police later reported that Darnell had been arrested at his home in Auburn and was held on $500,000 bail.

After getting into a dispute with staff at Jinling Purple Mountain Hotel in Shanghai on January 10 over a misplaced laptop, a 28-year-old man named Chen decided to escalate, CBS News reported. He crashed his car through the glass lobby doors and careened around the space, knocking over fixtures and terrifying other guests, who tried to get the driver out of the car. "Do you have any idea what you've done? Are you crazy? Are you?" onlookers screamed at him. As he attempted to exit the lobby, he hit a door frame and came to a stop, and police took him into custody. It turns out the laptop had been stolen and was found outside the hotel; no one was injured.

WSMV-TV reported that a car that crashed into a mailbox in Nashville, Tennessee, on January 14 was driven by an underage motorist -- REALLY underage, as in 5 years old. The child's father, John Edwin Harris, 53, was seen by a witness grabbing the kid and running from the scene, police said. Officers found multiple open bottles of alcohol inside and ran the tags; when they arrived at Harris' home, he was driving away in his wife's car. He failed a field sobriety test, could barely stand up and smelled of alcohol. He was charged with DUI and leaving the scene of an accident -- where's the child endangerment charge?! -- and was released on $4,000 bond.

Kimora Lee Simmons In Pot/Traffic Bust: The bothersome wife of music titan Russell Simmons was arrested early Monday morning for pot possession and assorted vehicular infractions following a traffic stop in Saddle River, New Jersey. As seen in the adjacent police booking photo, Mrs. Simmons, 29, was wearing a Kabbalah red string bracelet to ward off assorted evil eyes when officers pulled over her Mercedes SL-600 (suggested retail price, w/o extras: $128,220). The flimsy string did not keep Kimora out of cuffs, especially since she repeatedly ignored police directions to pull over her ride (she finally stopped the Benz in front of her Saddle River estate).

Thanks to an Iowa teen and four other men, an elderly man and a dog were rescued over the weekend after their jeep plunged into a local lake. The 83-year-old man, Thomas Lee, along with his dog Cooper was going to his son-in-law's fishing shack around 3 pm when his car fell into East Okoboju Lake, as reported by PEOPLE. According to a press release from the Dickinson County Sheriff's Office, Lee and Cooper "went through the ice" under the Highway 71 bridge. Joe Salmon, 17, was ice fishing and watching snowmobile races when he witnessed the jeep plunging into the water. He first called 911 and then he jumped into the icy water to rescue Lee and Cooper. "I took one step and [the water] went to about my chest," Salmon said. "I got on the bumper of the rear and tried opening the back door, but all the windows were locked, but one guy gave me a knife and I hit the back glass a couple of times." He broke the glass and was able to bring out Cooper safely. However, Lee couldn't get out as his foot was stuck between the seats and the center console," said Salmon. So Salmon had to pull the console up to release him. He got stuck once more, but after which, he was able to bring him out.

Rivian announced last week that it will lay off six percent of its workforce to curb costs, according to Reuters. Rivian has already had to grapple with falling cash reserves, a weakening economy, and supply chain difficulty, all of which have led to the need to trim down costs. CEO R.J. Scaringe notified Rivian employees via email. In the note, he said that the company would be focusing its resources on ramping up production of the R1T and R1S vehicles, and on reaching profitability. Rivian has been hurting for a while now. The stock is down 90 percent from its peak in November of 2021, and the company has been hemorrhaging cash as it attempts to navigate the complicated path from start-up to full-fledged automaker.

Ford has cut its stake in Rivian from 11.4 percent at the end of 2021, to 1.15 percent, reports Reuters. Shares of Rivian, which declined to comment, were down 2.5 percent before the bell. Ford, which wrote down the value of its Rivian investment by $7.4 billion in 2022, has been paring down its stake amid production struggles at the Irvine, California-based company. The new stake, disclosed in a Wednesday filing, comes a week after Reuters reported Rivian's plans to lay off 6 percent of its staff to cut costs amid "falling cash reserves on the back of mounting economic worries."

Nissan wants to produce electric vehicles with solid-state batteries by 2028, according to a new report from Autocar. The company is working on a pilot plant to produce the batteries by 2025 and intends to ramp up production by 2028 for the first application. Solid-state batteries will offer far superior energy density and much faster charging times, which should result in dramatically increased range and even less time spent charging while on the go. 'We think we have something quite special and are in a group leading the [solid-state battery] technology," said David Moss, Nissan's senior vice-president of research and development in Europe while talking with Autocar.

At least 1-in-5 charging attempts by drivers failed last year, according to a J.D. Power study released on Wednesday, says Automotive News, and EV sales are doubling the installation rate of new public charging stations. The number of failed charging attempts went from 15 percent in the first quarter of 2021 to 20 percent in the first quarter of 2022 and rose to more than 21 percent by the third quarter, according to J.D. Power's Electric Vehicle Experience Public Charging Study. "We can't add new chargers and let all those old ones fall into a state of disrepair," said Brent Gruber, executive director of global automotive at J.D. Power. "We have to manage the maintenance of those as well because that's the only way we're going to meet the consumer demand."

Tesla's Model Y and Model 3 electric vehicles were the top-sellers in California last year, outselling Toyota's RAV4 and Camry models, according to a California New Car Dealers Association report quoted by Reuters. It is the first time a Tesla model topped the annual sales list in California, a major vehicle market where one in five cars is electric. Tesla sold 87,257 Model Y electric SUVs and 78,934 Model 3 electric sedans last year, while Toyota sold 59,794 units of its Rav4 SUV and 55,967 of its Camry sedans. The Camry was the top seller in 2021.



1960 Chevy Sedan
Repair Mistakes & Blunders
From Rock Auto
I was replacing worn out bushings on the front end of my 1965 Mustang using an air wrench with a deep socket to make things quick and easy. I pulled off the links, strut rods, sway bar and the control arm and then installed the new parts. It was all going well. When I went to reinstall one of the sway bar bushing brackets, I found that I only had three out of the four necessary nuts. I looked under, next to, and all around the car. No nut. I followed a path that it would have rolled toward the street from my garage. No nut. I looked in all the cracks and crevices of the sidewalk and driveway. No nut. I looked in my sockets and box wrenches. I looked in and around the old parts. I searched high and low. I could not find that nut anywhere. It had vanished.

It was getting late so I decided to call it quits for the evening. Still puzzled by it the next day, I looked around some more, but the nut was nowhere to be found. I was stumped. I had to admit defeat. So I went through my box of nuts and bolts and found a suitable replacement. I installed it and was all set. I needed to take the car for a test run, but I thought I would make sure that everything was secure and tight first. When I went to check the nut on top of the sway bar link, I noticed there were two nuts on that bolt! How in the heck? Did gremlins play a trick on me? Did I miss seeing a nut already there and install a second one? Was I losing my mind? Nope. None of those things. What must have happened is that when I pulled the nut off the bracket it must have gotten stuck in the socket. When I used the socket to install a nut on the sway bar link, the nut stuck in the socket got screwed into place there as well.

I am usually careful about keeping track of nuts and bolts as I pull them off to make reinstalling them a snap, but apparently this time I missed one. Anyway, check your sockets to be sure nothing is stuck inside!

Paul in California

1967 Chevelle SS
What Happened To Happy-looking Cars?
By Aaron Robinson - From Hagerty
In late October, an old Land Rover Series III station wagon that I bought in the U.K. sailed into a California port on a vehicle carrier after three weeks at sea. It was parked in the sun and salt air of the dock to wait out what I believed would be, based on five previous imports, a couple of days of Customs clearance. A week went by. Then another, with barely any information despite repeated inquiries. My temperature began rising. I went around telling people that Customs adopted a new motto: E Screwitus Younum.

So perhaps I wasn't in the best mood when pics of the new Lotus Eletre SUV dropped in my inbox. I like Lotus and I'm not opposed to luxury SUVs, but the styling did strike me as just another angry face in the crowd. The Eletre has pinched headlights and a scowling grille, and one imagines that Lotus's designers were evoking a fearsome cobra. Or a warrior chief in the throes of doing his taxes. Or 5-year-old me tasting gefilte fish for the first time.

Thanks to relentless copying and the auto industry's deep fascination with fads, cars today are almost universally unhappy. They fret, they glare, they scowl, they stew with festering grudges. They are at risk of developing deep and permanent worry lines. For decades, the Toyota Crown has been the upright and understated flagship of Japan's taxi fleet as well as legions of sensible salarymen. Toyota just released pictures of the new Crown: slit headlights, a jutting chin accentuating an acute underbite, and a wall-to-wall grimace for a grille. Toyota has become enamored with inking its creations with random blackout panels, and the Crown is so thusly tatted that it looks like a gangbanger out on an assuredly brief parole. The new Crown is not here to provide safe, reliable transport—it's here to swipe your watch and wallet.
Cars seem to reflect our mood. Columnist David Brooks wrote in The New York Times recently that "the negativity in the culture reflects the negativity in real life," noting that researchers who analyzed 150,000 pop songs released over 50 years determined that the word "love" appeared half as often in later years, while the word "hate" had an uptick. From the endless downbeat headlines to the repeated surveys that say more and more people rate their lives as terrible, the world is in a funk, and it apparently wants its cars to be sad and angry, too.

This wasn't a problem when most of our classics were built. They were given regal, technical, and forward-to-the-future faces. It helped that industry standard from the 1930s to the 1980s was a 7-inch round headlight (followed by a 5.5-incher), because round lenses backed by semi-hemispherical reflectors did a good job of concentrating light, especially from 6-volt bulbs. Darkness, both literal and figurative, was thus banished to the shadows. The ultimate happy car, the bug-eyed Austin-Healey Sprite, was born into a Britain mired in empire collapse, currency drift, nuclear threat, and increasing social disorder. Yet it keeps smiling (and making smiles) to this day, reminding us all to stop clenching and maybe lighten the hell up.
I waited out Customs with scant information, which sent me to black, enraging places where uncaring bureaucrats lounge through long coffee breaks and slow-walk approvals out of unwarranted spite. Finally, I talked to someone in the know and learned that old Land Rovers get extra scrutiny because theft and import fraud has become so rampant among them. The thin blue line was merely doing its job, and two weeks was actually pretty good—some Rovers have taken six months to clear.

And there it was on the dock, filthy, spotted with seagull crap, but still bright-eyed and chipper. Old Land Rovers have a simple face—just a cube, really, yet a welcoming and competent one. It's a face that says, "Keep calm and carry on." And, "If you're going through hell, keep going." Apparently, from all the thefts, it's a face loved the world over, perhaps proving that we're ready for some happier cars to take us to happier days.

Red and White 55 Chevy with Cragar SS wheels
As Electric Car Sales Surge, Their Benefits Are Increasingly Criticized
From New York Post
The popularity of electric vehicles (EVs) has never been buzzier. Across the U.S, EV sales jumped by two-thirds last year to over 807,000 cars, according to Wall Street Journal reports. Fully electric vehicles now make up 5.8 % of all cars and light trucks sold in the US, up from 3.2% just a year earlier. Options for EV buyers are increasing as well, as Ford, Hyundai, Kia—along with startups including electric pickup maker Rivian — edge in on turf long dominated by Elon Musk's Tesla.

But the EV revolution isn't happening fast enough to satisfy everyone. "We have to take combustion-engine vehicles off the road as rapidly as we can," then-candidate Joe Biden said in 2019. Since taking office, Biden has made the shift to electric vehicles one of his top environmental priorities.

Back in late 2021, the president told automakers he expects EVs to make up 50% of their new vehicle sales by 2030. The White House is enforcing this "voluntary" policy with a combination of carrots and sticks. The carrots include plans to spend nearly $15 billion building EV charging stations and subsidizing domestic battery production.

As for sticks, the administration has issued draconian fuel-efficiency standards requiring that each carmaker's gas-guzzling fleet achieve an average of 55 miles per gallon by 2026. Voters would likely balk if the White House began to ban traditional internal combustion engines (ICE). But Manhattan Institute economist Jonathan Lesser argues the new fuel standards actually impose that goal in a stealthier fashion. The new rules constitute "an electric vehicle mandate by regulatory fiat," he writes. In other words, Biden is using executive decrees to position EVs as the backbone of the nation's automotive future. (this is why we have California rules in Virginia ~ Fred)

Political leaders in New York, California, and other states aren't even trying to be stealthy. New York Governor Kathy Hochul and California's Gavin Newsom have both signed measures severely limiting ICE sales over the next few years, and banning them outright by 2035. "We can solve this climate crisis if we focus on the big, bold steps necessary to cut pollution," Newsom said last August.

These leaders often talk as if shifting to electric cars is the boldest step our nation can take to help the planet. In reality, policies forcing carmakers to build EVs—and forcing drivers to buy them—are misguided. Even if all Americans traded their gas-powered cars for electric vehicles, the transition would yield only modest reductions in emissions. Moreover, the policies intended to push people into buying EVs rely on un-American levels of coercion.

To be clear, the EVs are technological marvels and a blast to drive. But the promise of electric vehicles has been oversold. EVs are not an environmental panacea. And, for now at least, they don't make sense for most drivers.

It's no coincidence that Tesla, America's most popular EV brand, was born in California's Silicon Valley. The roads are smooth, the weather is mild, and the people are rich. California EV owners can charge their cars in their own suburban garages and drive them modest distances to work or out to dinner.

But most Americans don't live in balmy Palo Alto. Many have to contend with very cold or hot weather, which can dramatically reduce an EV's range. Others drive rural roads, where chargers may be scarce. And city residents often lack personal garages where they can plug in.

Nonetheless, the federal government wants to see an EV in every driveway, and offers subsidies of up to $7,500 to people who buy them. Not surprisingly, most of that subsidy money winds up in the pockets of well-off car buyers.

Meanwhile, battery-powered cars and trucks still can't do all the things people expect from their ICE vehicles. For example, Motor Trend magazine recently tested the towing-capacity of Ford's hot-selling F-150 Lightning pickup. They discovered that hooking a full-sized camper trailer to the $92,000 EV truck reduced the pickup's range to a nail-biting 90 miles.

EVs are also more expensive than comparable ICE vehicles—and prices are still rising. According to J.D. Power, the average new EV sold for $66,000 last year, up from $51,000 the year before and far higher than the $45,844 price tag for an average ICE last year. Driving an EV now also costs slightly more per mile than driving a mid-priced ICE, according to the Anderson Economic Group.

Time is another factor. Tesla owners like to brag about plugging into the high-voltage "Superchargers," which can pump 200 miles worth of juice into a car's batteries in about 20 minutes. But most public charging stations are of the less powerful Level 2 type. These can take eight hours or more to fully charge a vehicle. (Many home chargers take even longer.) Meanwhile, it takes less than four minutes to fill the tank of a typical ICE car.

EVs are often touted as "zero-emission vehicles." But calculating their true environmental footprint is surprisingly tricky. Yes, EVs emit no tailpipe emissions. So, if an EV is charged with low-carbon electricity—say from nuclear, hydropower, solar, or wind—that adds up to very a clean operation.

However, if you live in a state that mostly burns coal for electric power—like Utah, Indiana, or Kentucky—your car's carbon footprint will approach that of an ICE vehicle. And EVs only reduce emissions if people actually drive them instead of a comparable ICE vehicle. Researcher from the University of Chicago recently concluded that he typical EV is only driven 5,300 miles per year, 'about half the US fleet average'."

It appears affluent EV owners use their electric cars when it's convenient but rely on their conventional cars or trucks for about half their travel. Of course, an EV that mostly sits in a driveway doesn't do much to bring down emissions. Which is why, as those University of Chicago researchers concluded, "electricity may not be as easily substituted for gasoline as previously thought."

It is also important to consider the environmental impact of the car itself. A typical EV battery pack contains about 25 pounds of lithium, 30 pounds of cobalt, 60 pounds of nickel, 90 pounds of copper, and hundreds of pounds of other materials. All those minerals must be mined, processed (mostly in China), and shipped around the world—which takes energy and creates pollution. Is all that environmental disruption worth it?

Most experts calculate that the lifetime emissions from an EV are still somewhat lower than those of a comparable ICE vehicles. But not everyone agrees. And those "lifecycle" calculations assume the EV will be driven as much as a combustion vehicle, which, as that California study showed, probably isn't the case.

Even today's relatively modest production of electric vehicles is putting strains on mineral supplies. The price of lithium has climbed roughly 1,000 % since 2020. (That's one reason EV prices are surging.) One group of analysts predicts the global demand for lithium will grow by a factor of 40 over the next two decades.

This shortage of critical materials is one reason some automakers are skeptical about electric vehicle hype. "EVs are just going to take longer to become mainstream than media would like us to believe," Toyota CEO Akio Toyoda said last year. Unsurprisingly, his company is exploring hydrogen fuel cells and other low-carbon technologies, in addition to EVs.

Investors too are becoming more realistic about EV prospects. Tesla's stock—which was once worth more than all the world's major car companies combined—has fallen by roughly half since its late 2021 high. Washington might also consider accepting a similar dose of reality, with federal policymakers rolling back efforts to force us all into electric vehicles overnight. Offering subsidies to help affluent people buy luxury cars is unfair, and according to a recent Harvard study, might even boost overall emissions.

If politicians are serious about reducing those emissions, they should focus on making the U.S. power grid cleaner. For example, we should trim regulations that give local activists too much leverage to block power-line projects like Missouri's proposed Grain Belt Express. And the Nuclear Regulatory Commission needs to streamline approvals for the next generation of super-safe nuclear plants. That way we can have enough cheap, clean power for the people who do want to drive EVs—not to mention installing home heat pumps or electrifying dirty industries now reliant on fossil fuels.

Governments generally aren't very good at picking the technologies of tomorrow. Maybe the car of the future will run on batteries, maybe it will be hydrogen fuel cells, maybe it will be super-efficient combustion engines. Nobody knows for sure, least of all state and federal bureaucrats. While is why instead of limiting our choices, our leaders should let innovation flourish, and let Americans drive what they want.

James B. Meigs is a senior fellow at the Manhattan Institute and the co-host of the How Do We Fix It? podcast. He is the former editor of Popular Mechanics magazine.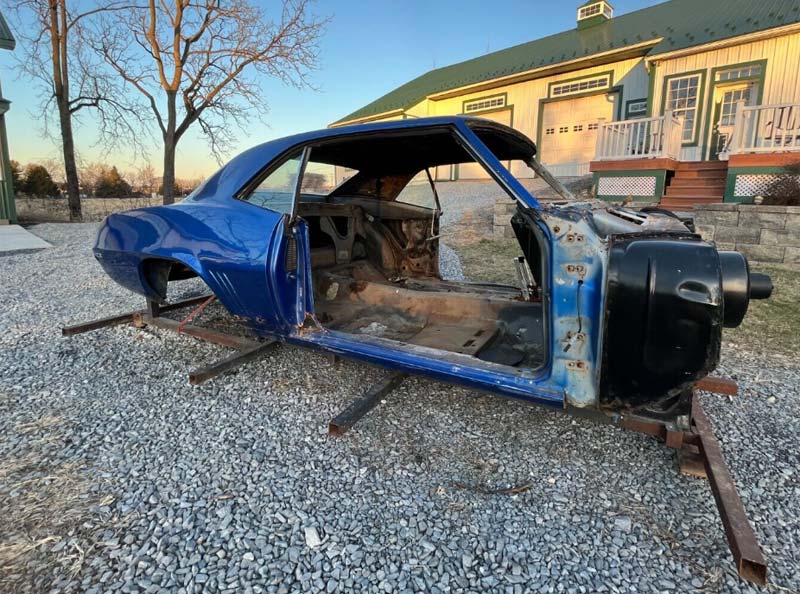 This 1969 "Camaro" was offered for sale on Ebay for $5500 with no title - I don't think there is enough to title this "vehicle". This is just one example of crazy antique vehicle prices. If you are wondering if anything else comes with this "car" the answer is no, you get what you see for the $5500. And the car is nothing special - a base V-8 with automatic that was originally green.
IRS Changes Definition of 'SUV,' Making More Vehicles Eligible for Tax Credits
From: The Epoch Times
The Internal Revenue Service (IRS) modified the regulatory definition of a sport utility vehicle (SUV) to make more vehicles eligible for an electric vehicle (EV) tax credit of up to $7,500.

In a notice issued on Feb. 3, the IRS and the Department of the Treasury jointly changed the vehicle classification standard by which vans, SUVs, pickup trucks, and some other vehicles are defined, making more models eligible for federal tax credits.

The Inflation Reduction Act (IRA) made SUVs priced at up to $80,000 eligible for the EV tax credit, while cars, sedans, and wagons could only qualify if they were priced at up to $55,000.

The changes mean vehicles that automakers consider crossover SUVs now qualify for the credit.

"Some vehicles that were previously subject to the $55,000 MSRP limitation are now classified as SUVs and therefore get the benefit of the $80,000 MSRP limitation," the IRS said in a statement, referring to the manufacturer's suggested retail price (MSRP), not the actual price paid.

For example, this means that the retail price cap for eligibility for the tax credit is raised from $55,000 to $80,000 for models like GM's Cadillac Lyriq, Tesla's five-seat Model Y, and Ford Mustang Mach-E. (A complete list of new qualifying clean vehicles can be found here.)

"A very good decision that clears up some EV tax credit confusion and instantly helps customers shopping today (and tomorrow) for an electric crossover or SUV," said John Bozzella, president and CEO of Alliance for Automotive Innovation, in a statement.

The new qualifications apply to vehicles bought and placed in service on Jan. 1, 2023, or later. For vehicles bought before that date, there are separate qualifying criteria.

Tesla CEO Elon Musk complained in January that tax rules for EVs were "messed up," with the five-seat version of Tesla's Model Y not considered an SUV but the seven-seat version considered as one.

The new rules have introduced consistency, making both Tesla models SUVs for purposes of the tax credit.

Details
The IRS and Treasury Department have revised the vehicle classification standard to use the consumer-friendly Environmental Protection Agency (EPA) Fuel Economy Labeling standard instead of the EPA CAFE standard, making it simpler for consumers to identify vehicles that meet the MSRP cap requirements.

Vehicles whose class includes "sports utility vehicle," "pickup truck," or "van" on the fuel economy label or on FuelEconomy.gov are considered an SUV, pickup truck, or van, respectively, for the purpose of EV tax credits.

This includes the following vehicle classes, for which the $80,000 MSRP limit applies:

• small sport utility vehicle
• standard sport utility vehicle
• small pickup truck
• standard pickup truck
• minivan
• van

For tax credit eligible vehicles that are not in one of the classes in the list above, the $55,000 MSRP cap applies.

According to the IRS's new guidelines, the MSRP for new eligible EVs may not exceed the following amounts for the following vehicle types:

• vans—$80,000
• sport utility vehicles—$80,000
• pickup trucks—$80,000
• other—$55,000

Vehicles whose MSRP exceeds the limitation for that specific vehicle type are not eligible for the tax credit.

The IRS says that all vehicles that were classified as an SUV, van, or pickup truck, for purposes of the new clean vehicle tax credit prior to the Feb. 3rd classification update, continue to be subject to the same $80,000 MSRP cap.

For those vehicles that are now classified as SUVs and are subject to the higher limit, taxpayers should get a seller's report.

Specifically, a seller must provide to both the taxpayer and the IRS a report that contains the following information:

• name and taxpayer identification number of the seller
• name and taxpayer identification number of the taxpayer
• vehicle identification number of the new clean vehicle
• battery capacity of the new clean vehicle
• verification that the taxpayer is the original user of the new clean vehicle
• the date of the sale and the sales price of the vehicle
• maximum credit allowable for the new clean vehicle being sold
• for sales after Dec. 31, 2023, the amount of any transfer credit applied to purchase
• a declaration under penalties of perjury from the seller

Normally, sellers must provide the report no later than the purchase date of the vehicle. But for vehicles that were previously ineligible, but under the revised rules are eligible, taxpayers can ask sellers to provide the reports after the purchase date.

This 38K mile 1995 Trans Am is for sale - contact Fred
© 1999 - 2023 Car Club Council of Central Virginia, Inc - All Rights Reserved