"The Relay" Online Newsletter
March 2021 Issue
This is the monthly online newsletter for the car club council. All car hobbyist events are listed on this site under "Calendar." Just click on the link above to view the list of car shows and other activities.
President's Message
We had to cancel the February meeting which was to replace the January meeting due to the virus restriction of 10 people meeting. Our next meeting is in April while our 26th anniversary car show is May 15. Because we needed to approve the budget so trophies and dash plaques could be ordered I sent out an email to the council members asking them to approve the show budget. Everyone voted "yes" on the budget. Trophies have been ordered, dash plaques will be ordered soon and all the other things that need to be done in advance of a show are being done. The show committee has met and made some decisions. You can register for the show by going to this page carclubcouncil.com/carshow. You will find complete info at that link. We could use volunteers on show day, donations for the silent auction - keep in mind this is a fund raiser for Pamplin Park which is a 501(c)(3) charity.

I have the General Assembly bills of interest listed below. Most of them were continued into a special session right after the shortened short session. There was not time in the 30 day session to get to everything. As always I invite you to go to https://lis.virginia.gov/ and look at all the bills. You will see the special session bills and the bills that failed in the regular session have been removed. It will give you an idea of what our representatives think is important legislation.

I am worried about where the government is taking our car hobby. Both the state and federal governments are doing all they can to encourage the replacement of gas and diesel vehicles with electrics. The infrastructure for electrics is not there. There are not enough fast chargers and simply not enough electricity being generated to replace gas and diesel vehicles. Take a look at California and Texas - there isn't even enough electricity to run what they already have. But that is not stopping anyone. The Biden administration is going to replace many of the government's fleet of vehicles with electrics. Automakers want to phase out gas and diesel and replace with electrics.

Not only is the infrastructure not there for this conversion but let's take a look at reality. There is never going to be a big ship, jet airplane, tractors and other farm equipment that run only on electricity. Even electric chain saws and lawn mowers are pretty much a joke. The reviews of them all say the same thing - not powerful enough to do the job.

During the ice storms of February my power, internet, phone service, etc was out on and off for 9 days. It was 9 days before everything worked for a solid 24 hours without something going out. A power surge took out a computer hard drive. I was one of the lucky ones because I had a generator, a wood stove and a propane stove. I was never cold - thanks to fossil fuels! After the power was back on I ran into a woman who lives on my road. She was not as lucky. Her generator had not been started in years and she couldn't get it running. She had a wood stove, but no wood. She had no heat, no electricity, no running water for over a week. The food in her freezer thawed and ended up in the trash. She was cold and the only way she could get warm was to get in a gasoline powered vehicle and run the heater. What would have happened if her vehicle was electric?

When there's an emergency you want a dependable gasoline/diesel vehicle. With no power how do you charge up an electric car. With no gasoline, no diesel and no natural gas or propane how do you run a generator? Do the people in DC and Richmond want us to freeze in the next ice storm? They really need to think about the consequences of getting rid of fossil fuels. And we need to enjoy driving our old gas powered carbon emitting chariots while we can.

~ Fred

It's March and Spring is here - get the old car ready to cruise
Next Meeting
The next meeting will be Monday, April 26 at 6:30 PM at a location to be named in the April newsletter. We will discuss our car show on May 15 along with many other topics.
Vehicles Needed For Wedding Photos
Please contact if you are interested in using your vehicle ~ Thanks, Fred
I am a local photographer that has teamed up with a local tiny chapel and an international wedding service.

We are looking to grow this business in Richmond. Thus far I have gotten several out of town clients who stay at hotels downtown. The chapel is located in Ashland. I would be interested in having a car service that would take the couples from their hotel to the chapel and back 1-3 hours of service. Couples have enjoyed having their dog as part of their wedding day, so pet friendly providers are also needed.

If you look here you will see the types of cars that have been used:
idodrivethru.com.au

Hunter Henkel, Wedding Photographer, I Do Drive Thru Weddings | US Partner
804.330.7429 | hunter@hunterhenkel.com
www.idodrivethru.us/virginia
Car Hobbyist News
I have all the interesting auto-related bills that were in the General Assembly listed below this article. Note how many of them have been "Continued to 2021 Special Session 1". I guess this is what happens when the "short" session is shortened. The special session began on February 10th. I'm not sure how long the session will last but the council will continue to monitor legislation and let you know if anything will affect the car hobby. The fall 2020 special session lasted a couple of months. It's not good for the Assembly to meet for long periods of time because that gives more time for legislators to change things. Sessions are limited in time to insure the most important stuff gets done.

The big news of course is the actions of the Biden administration. At this writing some of President Biden's appointments are in the process of being confirmed. After confirmation we will learn what actions these officials plan to take. I find the shutting down of the Keystone XL pipeline and the one-year pause on leases for oil and gas drilling on federal lands troubling. I'm sure this will lead to an increase in the price of energy. It could also drive inflation. Everything in America moves by truck or train which run on diesel. An increase in the price of fuel means an increase in the price of everything.

The Federal Reserve is already looking at ways to prevent inflation. We have a fragile economy due to the effects of the virus lockdowns. If the economy picks up because virus restrictions are eased it could mean a sharp increase in prices and inflation. Watch the price of gasoline and if it increases then prices for everything else will sooner or later also increase.

Why would the Biden administration take actions that will increase the price of energy? The simple answer is climate change. The people in the administration have seen the same studies that I've seen. Americans will not consider electric vehicles until the price of gasoline gets in the five dollar a gallon range. As gasoline becomes more expensive more people consider electrics. Biden is planning to rejoin the Paris Climate Accord.

Take a look at the hand writing on the wall: by 2025 there will be 400 additional models of electric vehicles. By 2030 many automakers want to have phased out gasoline and diesel vehicles. Why would they want to make only hybrid and electrics? Recall the Obama administration coming up with 54.5 miles per gallon as the corporate average fuel economy. That got put on the back burner in the Trump administration. But the automakers have already planned for it. Gas mileage of 54.5 miles per gallon is motorcycle mileage. You are not going to get that kind of mileage in popular trucks and SUVs. The way out of this dilemma is to build electrics.

Electrics suffer from several things: a lack of infrastructure – fast chargers are needed in a lot of locations, charging time and range. A big concern is that we don't have enough power plants for all the electricity we need now. If we change from gas to electric vehicles where is that electricity going to come from?

Biden has picked Michael Regan to head the EPA. From the news: President Biden's pick to head the Environmental Protection Agency, Michael Regan, tried to assure Republicans their concerns about job losses would be heard under his leadership.

Under questioning from GOP senators, Regan, vowed to "follow the law, not exceed my statutory authority" in enacting a slew of new regulations on everything from powerplants to vehicle tailpipes, mercury emissions to waterways. The Trump administration rolled back over 100 environmental rules it said were unnecessary and burdensome to business, and Biden campaigned promising to put them back in place.

Right now we are at a wait and see what happens. But if you doubt the Biden administration is not serious about getting us out of our fossil fuel vehicles keep in mind he has announced that the federal fleet will go green. The following is from the Washington Post: There are some 645,000 vehicles in the federal fleet. They include roughly 200,000 passenger vehicles, 78,517 heavy-duty trucks, 47,369 vans, 847 ambulances and three limousines.

Each year, federal vehicles are driven about 4.5 billion miles, using almost 400 million gallons of gasoline and spewing more than 7 billion pounds of planet-warming greenhouse gases. Now President Biden wants to turn the entire fleet green.

In an executive order signed Wednesday, Biden directed federal officials to devise a plan for converting all federal, state, local and tribal fleets, including 225,000 Postal Service vehicles, to "clean and zero-emission vehicles."

The declaration is a boon to the fledgling electric vehicle industry, which has grown exponentially in the past decade but still represents fewer than 2 percent of automobiles sold in the United States. And it represents yet another aspect of Biden's "all government" approach to fighting climate change; using the power of the purse, he aims to help boost American manufacturers of green products.

We could be in for a bumpy ride for the next four years. Enjoy your internal combustion engine while you can.

Again there were no car events due to the virus restrictions so I went to the way back machine (cabinet where I keep old discs), reached in and grabbed a disc from 2009 which was a run to Williamsburg. That's a Ford woody wagon.
Interesting Bills
There are some interesting bills in the General Assembly listed below.

HB 1778 Removal of clutter from property; civil penalty: Provides that a locality may by ordinance require the removal of clutter from property, or may, whenever the governing body deems it necessary, after reasonable notice, have such clutter removed by its own agents or employees, in which event the cost or expenses thereof shall be chargeable to and paid by the owners of such property and may be collected by the locality as taxes are collected. The bill defines "clutter" as including mechanical equipment, household furniture, containers, and similar items that may be detrimental to the well-being of a community when they are left in public view for an extended period or are allowed to accumulate. Violations of the bill are subject to the existing civil penalty applicable to violations of provisions relating to the removal of trash, garbage, refuse, litter, and similar substances from property. Passed by both houses

HB 1796 Special license plates; Virginia National Guard retirees. Continued to 2021 Special Session 1

HB 1840 Issuing citations; certain traffic offenses: Authorizes law-enforcement officers to lawfully stop a motor vehicle for operating (i) without a light illuminating a license plate, (ii) with defective and unsafe equipment, (iii) without brake lights or a high mount stop light, (iv) without an exhaust system that prevents excessive or unusual levels of noise, (v) with certain sun-shading materials and tinting films, and (vi) with certain objects suspended in the vehicle. The bill authorizes a law-enforcement officer to stop a pedestrian for jaywalking or entering a highway where the pedestrian cannot be seen. The bill provides that law-enforcement officers are permitted to stop a motor vehicle for an expired safety inspection or registration sticker immediately following the original expiration date. The bill removes the prohibition on using evidence discovered or obtained due to an impermissible stop, including evidence obtained with the person's consent, in any trial, hearing, or other proceeding. The bill removes prohibitions on stopping or arresting a driver of a motor vehicle for the violation of a local ordinance relating to the ownership or maintenance of a motor vehicle that is not a jailable offense. This bill has been killed

HB 1871 Motor vehicles used for the delivery of property: trade dress: Requires motor vehicles used for the delivery of property to the purchaser to display a logo, insignia, or emblem identifying the person or entity with which the driver of the vehicle is associated during the delivery. This bill has been killed

HB 1887 Titling and registration of foreign market vehicles: Authorizes the Department of Motor Vehicles to issue a negotiable title for a foreign market vehicle manufactured 25 or more years ago that does not comply with current federal safety requirements. Current law only allows for a negotiable title to be issued to such vehicles manufactured prior to 1968. Continued to 2021 Special Session 1

HB 1901 Online Virginia Driver's Manual course; training school: Removes the requirement that a driver training school providing the Virginia Driver's Manual course online be a computer-based driver education provider, as defined in the Code of Virginia. Continued to 2021 Special Session 1

HB 1918 Student driver safety: Adopts measures aimed at improving student driver safety. The bill requires curriculum for tenth grade health at public schools to include instruction on the dangers of distracted driving and speeding, to be developed by the Department of Education. Finally, the bill requires that a student show proof of a valid driver's license or driver privilege card before being issued a school parking pass at a public high school and that schools use a common application for such parking passes. Continued to 2021 Special Session 1

HB 1960 Vehicle registration; special communication needs indicator: Expands eligibility for a special communication needs indicator on a vehicle registration to vehicle owners whose vehicle is regularly occupied by an individual who has a disability that can impair communication. Current law authorizes those vehicle owners who have a disability that can impair communication to apply for such an indicator. The bill authorizes the removal of such indicator by request in writing to the Department of Motor Vehicles. Continued to 2021 Special Session 1

HB 1965 State Air Pollution Control Board; low-emissions and zero-emissions vehicle program: Directs the State Air Pollution Control Board to implement a low-emissions and zero-emissions vehicle program for motor vehicles with a model year of 2025 and later. Regulations adopted by the Board to implement the program are exempt from the Administrative Process Act and shall not become effective prior to January 1, 2024. Continued to 2021 Special Session 1

HB 1979 Electric vehicle rebate program; creation and funding; report: Creates a rebate program for the purchase or lease of new and used electric vehicles, to be administered by the Department of Mines, Minerals and Energy. A purchaser or lessee of an electric vehicle would receive a $2,500 rebate at the time of purchase, and a purchaser or lessee with an annual household income that does not exceed 300 percent of the federal poverty level would be entitled to an additional $2,000 rebate. The motor vehicle dealer where the vehicle is purchased or leased would receive a refund for the amount of the rebate and a $50 incentive payment for each rebate processed. Funds would be allocated from the revenues generated by the sunset of the Virginia Coal Employment and Production Incentive Tax Credit and the Coalfield employment enhancement tax credit and prohibit the allocation of new credits on and after January 1, 2021. The bill also establishes an Electric Vehicle Rebate Advisory Council to oversee the Electric Vehicle Rebate Program and to make recommendations regarding its implementation. The Director of the Department of Mines, Minerals and Energy is required to report annually to the Governor and the General Assembly regarding the Program. The Program will expire on September 1, 2026. Continued to 2021 Special Session 1

HB 2076 Motor vehicle sales and use tax; definition of sale price: Excludes from the sale price for determining motor vehicle sales and use tax the amount of any credit given by the seller for any motor vehicle taken as a trade-in. Bill has been left in committee - killed

HB 2077 Driving while holding a companion animal: Prohibits operating a motor vehicle while holding a companion animal. Bill has been left in committee - killed

HB 2926 Vehicle window tinting: Exempts motor vehicles equipped with side mirrors from the prohibition on applying or affixing sun-shading or tinting films to the rear side windows or rear windows of such motor vehicles. Current law prohibits such films that reduce the total light transmittance of such window to less than 35 percent. The bill also decreases from 50 percent to 35 percent the amount of total light transmittance that can be reduced by such films on the front side windows of motor vehicles equipped with side mirrors. Bill has been left in committee - killed

HB 2975 U.S. Route 1; "Loving Memorial Highway": Renames any section of U.S. Route 1 in Virginia that is designated as "Jefferson Davis Highway" to "Loving Memorial Highway." Continued to 2021 Special Session 1

HB 2118 Electric Vehicle Grant Fund and Program; creation, report: Requires the Department of Environmental Quality to establish the Electric Vehicle Grant Program (the Program) for the purpose of (i) awarding grants on a competitive basis to school boards for (a) assisting with the complete replacement of existing diesel school buses with electric school buses no later than 2031; (b) the implementation of recharging infrastructure or other infrastructure needed to charge or maintain such electric school buses; and (c) workforce development and training to support the maintenance, charging, and operation of such electric school buses and (ii) developing education outreach to promote the Program. The bill contains provisions relating to grant applications, priority, awards, and uses. The grants would be funded from a $0.05 per gallon tax on dyed diesel fuel. Farmers would be eligible for a refund of the tax for dyed diesel fuel used for agricultural or horticultural purposes. The bill has an expiration date of July 1, 2031. Continued to 2021 Special Session 1

HB 2146 Parked cars; VDOT right-of-way: Authorizes vehicles to be stopped or parked in an unoccupied Department of Transportation right-of-way adjacent to a highway in case of an emergency, accident, or mechanical breakdown. The bill clarifies that the term "emergency" includes retrieving a companion animal from a highway or area adjacent to a highway. Continued to 2021 Special Session 1

HB 2256 Local authority; parking: Expands from certain listed localities to all localities the authority to regulate or prohibit by ordinance (i) parking on secondary highways; (ii) the parking of watercraft, boat trailers, motor homes, and camping trailers on any public highway; and (iii) the parking of commercial vehicles on any public highway in a residence district. Bill has been left in committee - killed

HB 2260 Vehicle registration fees; Public Safety Trust Fund: Imposes an additional $4 vehicle registration fee to be deposited into the Public Safety Trust Fund, established by the bill. The moneys in the Public Safety Trust Fund are to be used to eliminate barriers to an inclusive, diverse, and well-qualified workforce by addressing compensation issues related to staffing, retention, and pay compression at the Department of State Police. Bill has been left in committee - killed

HB 2294 Odometer disclosure exemption: Provides that the exemption from disclosing a vehicle's odometer reading applies only to vehicles exempt from recording an odometer in another state that were manufactured (i) in or before the 2010 model year and transferred at least 10 years after January 1 of the vehicle's model year or (ii) in or after the 2011 model year and transferred at least 20 years after January 1 of the vehicle's model year. Current law exempts disclosure for vehicles exempt from disclosure in another state that were manufactured for a model year at least 10 years earlier than the vehicle transfer. This bill complies with federal regulations regarding odometer disclosure exemptions. Continued to 2021 Special Session 1

HB 2318 Test driving vehicles; residence districts; civil penalty: Authorizes localities by ordinance to require motor vehicle dealers in the locality to notify a buyer or potential buyer that test driving a motor vehicle in a residence district that has been designated for increased fines is prohibited, unless the buyer or potential driver is driving to or from his residence. The bill requires the locality to notify licensed motor vehicle dealers located within the locality of the enactment of such ordinance and send a copy of such notification to the Motor Vehicle Dealer Board. The bill authorizes the locality to notify the Board if a buyer or potential buyer is convicted of a traffic infraction while conducting a test drive in a prohibited location. The bill provides that the Board may determine if the proper notice was given and impose a civil penalty if such notice was not given. Continued to 2021 Special Session 1

HB 2334 Damage to motor vehicles; penalties: Makes it a Class 6 felony for a person to commit larceny of a catalytic converter from a motor vehicle, regardless of the converter's value. The bill also makes it a Class 6 felony for a person to willfully break, injure, tamper with or remove any part or parts of any vehicle, aircraft, boat or vessel for the purpose of injuring, defacing or destroying said vehicle, aircraft, boat or vessel, or temporarily or permanently preventing its useful operation, or for any purpose against the will or without the consent of the owner, or to in any other manner willfully or maliciously interfere with or prevent the running or operation of such vehicle, aircraft, boat or vessel, when such violation causes damage to such vehicle, aircraft, boat or vessel of $1,000 or more. Current law makes such violation a Class 1 misdemeanor with no limit on the amount of damage. Under the bill, the penalty for damage of less than $1,000 remains a Class 1 misdemeanor. Bill has been left in committee - killed

SB 1130 Personal property tax exemption; motor vehicle of a disabled veteran: Provides that one motor vehicle of a veteran who has a 100 percent service-connected, permanent, and total disability shall be exempt from local taxes. This bill is the enabling legislation for a constitutional amendment ratified by the voters of the Commonwealth at the November 2020 general election. Continued to 2021 Special Session 1

SB 1136 Special license plates; removal: Repeals the authorizations for issuance of special license plates no longer issued due to low plate sales, expired authorizations, or inability to issue. In addition, the bill directs the revenue shared for previous issuances and renewals and future renewals of Kids Eat Free special license plates to the Division of Community Nutrition at the Virginia Department of Health. Continued to 2021 Special Session 1

SB 1139 Animal-drawn vehicle equipment: Establishes equipment requirements for animal-drawn vehicles operating on the highways of the Commonwealth, including brake systems, tires and wheels, headlamps, hazard lights, reflectors, rearview mirrors, and horns. Killed

SB 1169 High school student parking passes: valid driver's license or driver privilege card required: Requires each public high school to require any student who applies to obtain a pass to park a vehicle on school property to provide evidence that the student possesses a valid driver's license or driver privilege card. Continued to 2021 Special Session 1

SB 1182 Motor vehicle liability insurance coverage limits: Increases the motor vehicle liability insurance coverage amounts from $25,000 to $50,000 in cases of bodily injury to or death of one person, from $50,000 to $100,000 in cases of bodily injury to or death of more than one person in any one accident, and from $20,000 to $40,000 for damage to property of others as a result of any one accident. The bill requires that self-insured operators of taxicabs maintain protection against uninsured and underinsured drivers with the current limits of $25,000, $50,000, and $20,000, respectively. The bill applies to policies issued or renewed on or after January 1, 2022. Continued to 2021 Special Session 1

SB 1195 Motor vehicle insurance; underinsured motor vehicle: Provides that a motor vehicle is underinsured when the total amount of bodily injury and property damage coverage applicable to the operation or use of the motor vehicle and available for payment for such bodily injury or property damage, including all bonds or deposits of money or securities, is insufficient to fully compensate any person injured as a result of the operation or use of the vehicle. Currently, a motor vehicle is underinsured when such coverage is less than the total amount of uninsured motorist coverage afforded any person injured as a result of the operation or use of the vehicle. Continued to 2021 Special Session 1

SB 1211 Vehicle registration fees; Public Safety Trust Fund: Imposes an additional $4 vehicle registration fee to be deposited into the Public Safety Trust Fund, established by the bill. The moneys in the Public Safety Trust Fund are to be used to eliminate barriers to an inclusive, diverse, and well-qualified workforce by addressing compensation issues related to staffing, retention, and pay compression at the Department of State Police. Continued to 2021 Special Session 1

SB 1284 Commonwealth Clean Energy Policy: Establishes the Commonwealth Clean Energy Policy, replacing the Commonwealth Energy Policy. The bill sets out the energy policy and objectives of the Commonwealth Clean Energy Policy, which include: (i) the Commonwealth recognizes that effectively addressing climate change and enhancing resilience will advance the health, welfare, and safety of the residents of the Commonwealth and that addressing climate change requires reducing greenhouse gas emissions across the Commonwealth's economy sufficient to reach net-zero emission by 2045 in all sectors, including the electric power, transportation, industrial, agricultural, building, and infrastructure sectors; (ii) the Commonwealth recognizes the need to promote environmental justice and ensure that it is carried out throughout the Commonwealth and the need to address and prevent energy inequities in historically economically disadvantaged communities; and (iii) the Commonwealth must continue to prioritize economic competiveness and workforce development in an equitable manner. Continued to 2021 Special Session 1

SB 1364 Commonwealth Transit Ridership Fund; creation: Creates the Commonwealth Transit Ridership Fund as a component of the Transportation Trust Fund to pay for free and reduced public transit fares throughout the Commonwealth. Any revenues generated by the retail sale of marijuana and marijuana products is deposited into the Fund. The bill does not become effective unless the retail sale of marijuana and marijuana products is legalized. Stricken at request of Patron
The War on Fossil Fuels
By Stephen D. Haner, Senior Fellow for State and Local Tax Policy for the Thomas Jefferson Institute for Public Policy.
The lesson of the Texas grid collapse is not just about electricity. Imagine the week Texans would have had if once the power went out and stayed out, they had no gasoline, diesel, propane, or natural gas to fall back on. How much worse would their plight have been without natural gas heating homes and businesses, propane space heaters and grills, and gasoline or diesel-powered cars and trucks to get where they needed to go?

You might think it alarmist to imagine that, but it is not. An all-electric economy, with the electricity itself reliant on unreliable wind and solar generation, is exactly the future envisioned for Virginia and being put into place by Governor Ralph Northam and the majority in the General Assembly.

The 2020 Virginia Clean Economy Act already requires the retirement of coal and natural gas electricity generation in the state in less than 30 years. That's what zero carbon means, although fortunately Virginia's main electricity provider maintains a fleet of aging nuclear plants not mandated to close. Yet.

Electricity is just the start. There is not one aspect of our economic lives where the debate is not being driven by the assumption – unproved and hotly contested – that our very existence is threatened by carbon dioxide emissions. The constant drumbeat of such claims have evolved into conventional wisdom. The lesson of Texas is we must slow down and think before we find ourselves over this cliff.

The proposed carbon tax and rationing scheme known as the Transportation and Climate Initiative is just a first step, with advocates admitting the ultimate goal is to eliminate gasoline and diesel as transportation fuels and make us totally dependent on electric vehicles.

This General Assembly was not asked to impose TCI with its taxes on Virginians. Yet. Once the 2021 election is past, the state is likely to join the interstate transportation fuel compact it has been negotiating for a decade. This year's General Assembly, however, did authorize joining with California and other states in a regulatory structure intended to ultimately end the sale of new internal combustion engines. Virginia is ceding control over that process to California and other states.

A serious effort was made this year to impose a tax on your electric bill to finance, among other things, converting the homes of lower income Virginians from natural gas or oil heat to electric heat pumps. Nothing would make the power companies happier, but that just makes us even more dependent on a single energy source. Another bill tax would have financed a fleet of electric school buses, destined to grow.

The Atlantic Coast Pipeline to bring a huge new natural gas supply into the state was crushed by environmental opposition, as was a modest expansion of an existing Virginia Natural Gas line into Hampton Roads. The Mountain Valley Pipeline is fighting for its life in the western part of the state. One of the first actions of President Joe Biden was to kill a major Canada-to-Gulf Coast oil pipeline.

People see the threads, but not the whole cloth. The war on coal is now a war on every fossil fuel. Coal miners will be joined in fighting for their livelihoods by the entire oil and gas industry, from auto mechanics to the service station industry.

It took probably fifteen minutes into the Texas crisis for the climate change warriors to begin to claim that the cold snap was caused by global warming. But the cold weather there was not out of line with past experience, and one day could do the same to parts of our electric grid. All of the extreme weather claims tied to global warming collapse when compared to historical records. But extremes will happen and will threaten the grid.

When those dark days come, we will not want an all-electricity economy, especially if dependent on intermittent sources. We will need – as Texas just proved – gasoline, diesel, propane and natural gas for at least some of our homes, stores, and workplaces.
Democrats Eye Vehicles As The Next Target For Cutting Carbon Emissions
This is from the Virginia Mercury - the council will monitor legislation and keep you informed.
While Virginia Democrats' big environmental push of 2020 was the Virginia Clean Economy Act, a sweeping omnibus measure designed to eliminate carbon emissions from the state's power grid by 2050, during the 2021 session they're setting their sights on a tougher and more diffuse source of carbon: transportation.

According to 2017 figures from the U.S. Energy Information Administration, almost half of Virginia's carbon emissions — 48 percent — come from transportation. Electric power, by contrast, accounts for almost a third, at 29 percent. But while power grid emissions come largely from a few dozen generating plants fueled by coal, gas and oil, transportation emissions come from literally millions of sources. More than 8.4 million vehicles are registered in the commonwealth, according to 2020 data from the Virginia Department of Motor Vehicles. The vast majority of those are powered by gasoline-fueled internal combustion engines, with electric vehicles numbering just shy of 150,000, most of them hybrids.

"The transportation sector is where we can have the most gains now in terms of getting carbon out of the atmosphere," said Del. David Reid, D-Loudoun, who is sponsoring two bills that aim to encourage electric vehicle use.

Replacing Virginians' gas-powered vehicles with electric ones will be a daunting lift. Unlike many other states, Virginia currently has no incentives in place for electric vehicle adoption, and price tags for proposals to both incentivize such purchases and build up the infrastructure to support their expansion are large. One recent study conducted by a working group through the Department of Mines, Minerals and Energy found that a proposed rebate program would require $43 million in funding to cover rebates for approximately 13,000 electric vehicles.

Still, many Democrats, who control the legislature and the governor's office, argue that with climate change accelerating and increased flooding due to sea-level rise in the low-lying Hampton Roads region, action is needed.

"We're now in the position where the public, I believe, is driving the legislators to say, number one, we've got to do something about the environment, but number two, there are options now that we've never had before," said Del. Ken Plum, D-Fairfax, during a virtual town hall about electric vehicles this December. "We need to get on board."

1962 Ford Galaxie
Immutable Laws
Law of Mechanical Repair
After your hands become coated with grease, your nose will begin to itch and you'll have to pee.

Law of Gravity
Any tool, nut, bolt, screw, when dropped, will roll to the least accessible place in the universe.

Law of Probability
The probability of being watched is directly proportional to the stupidity of your act.

Law of Random Numbers
If you dial a wrong number, you never get a busy signal; someone always answers.

Variation Law
If you change lines (or traffic lanes), the one you were in will always move faster than the one you are in now.

Law of the Bath
When the body is fully immersed in water, the telephone will ring.

Law of Close Encounters
The probability of meeting someone you know INCREASES dramatically when you are with someone you don't want to be seen with.

Law of the Result
When you try to prove to someone that a machine won't work, IT WILL!!!

Law of Biomechanics
The severity of the itch is inversely proportional to the reach.

Law of the Theaters & Sports Arenas
At any event, the people whose seats are farthest from the aisle, always arrive last. They are the ones who will leave their seats several times to go for food, beer, or the toilet and who leave early before the end of the performance or the game is over.

The Coffee Law
As soon as you sit down to a cup of hot coffee, your boss will ask you to do something which will last until the coffee is cold.

Murphy's Law of Lockers
If there are only 2 people in a locker room, they will have adjacent lockers.

Law of Physical Surfaces
The chances of an open-faced sandwich landing face down on a floor are directly correlated to the newness and cost of the carpet or rug.

Law of Commercial Marketing Strategy
As soon as you find a product that you really like, they will stop making it OR the store will stop selling it!

Doctors' Law
If you don't feel well, make an appointment to go to the doctor, by the time you get there, you'll feel better. But don't make an appointment and you'll stay sick.
Climate Change Follies
President Biden's war on fracking will raise electricity prices while accomplishing nothing on climate.

Article by Jonathan Lesser, the president of Continental Economics and an adjunct fellow with the Manhattan Institute. Link: City Journal.

Don Quixote would be proud of President Biden's climate-change executive orders, which take windmill-tilting to new heights. They will have no effect on the climate but will fall on the U.S. economy like a cudgel.

The most significant of Biden's orders is the one banning new drilling permits and hydraulic fracturing ("fracking") on all federal lands and offshore waters. Though only about 10 percent of fracking now takes place on federal lands, Biden is also calling for a "rigorous review" of permitting and leasing on all public lands. Many believe this is a prelude to a permanent ban on oil and gas development on those lands, and a complete ban on fracking, which progressives advocate.

In some states, such as my own state of New Mexico, fracking on federal lands accounts for more than half of all oil and natural gas production, and royalties from the industry generate more than 30 percent of state revenues. The loss of that revenue will be a major blow to the nation's post-pandemic economic recovery, especially in western states, where the federal government owns much of the land.

Ironically, fracking bans are likely to lead to greater reliance on more carbon-intensive coal-fired power generation. In the last decade, the huge increase in natural gas supplies and resulting drop in both gas and electricity prices have accelerated the pace of coal plant retirements. That's one reason why, in the last decade, the U.S. was able to reduce its carbon emissions by about 20 percent—more than any other country.

Restricting fracking and reducing natural gas supplies will cause natural gas prices to rise—and with them, wholesale electric prices, too, providing an incentive for coal power generation. Thus, consumers and businesses will face not only higher prices for gasoline and the natural gas used to heat their homes but also for their electricity.

To counter the resulting economic damage, Biden's executive order on fracking proposes massive subsidies for federal infrastructure development to create a "sustainable economy," though precisely what this entails remains unclear. It also proposes a new Working Group on Coal and Power Plant Communities and Economic Revitalization, to be led by former EPA head and current national climate advisor Gina McCarthy, along with Brian Dees, who heads the National Economic Council.

Will such painful economic and social sacrifices "solve" climate change? Not according to John Kerry, President Biden's climate czar. "Not when almost 90 percent of all of the planet's global emissions come from outside the U.S.," he said.

China, the world's largest greenhouse-gas emitter by far—it accounts for about a third of global carbon emissions, and its share keeps growing—is continuing to build coal plants. So is India, where emissions are also continuing to increase. The world's two most populous nations have no intention of crippling their economies with higher energy prices. Nor will other developing nations.

A realistic assessment of climate change and its effects, rather than tilting at green windmills, would allow a more informed discussion of the costs and benefits of environmental policies.

1950 Chevy Pickup
Subsidies for Electric Cars, Buses and Charging Will Accompany TCI's Taxes and Rationing
By Stephen D. Haner, Senior Fellow for State and Local Tax Policy for the Thomas Jefferson Institute for Public Policy.
The ultimate goal of the Transportation and Climate Initiative with its tax and rationing scheme is to eliminate fossil fuels for transportation and get us into electric vehicles. That is something advocates have admitted and critics have pointed out. While Virginia TCI participation is on hold in this statewide election year, the 2021 General Assembly is following other pathways to the utopian EV future.

The House of Delegates has sent the Virginia Senate a bill to create a state financial incentive of $2,500 for purchase of a new or used electric vehicle. An additional $2,000 rebate is offered to a low- and middle-income buyer of a new car and $500 if that buyer chooses a used EV.

The House has also passed legislation empowering the state's Air Pollution Control Board to adopt state regulations on vehicle fleet fuel economy and to model California's existing program forcing manufacturers to offer more zero- and low-emission vehicle sales in the state. This bill sets no goals but puts an accelerated process in motion, bypassing the full regulatory review, with a goal of regulating the 2025 model year vehicles offered in the state.

It is California's Air Resources Board that runs its LEV and ZEV programs which will be the models for Virginia. In part, that is because the big financial winners include the electric utilities, with California now planning for a 25 percent increase in power demand from EV expansion.

A third bill orders the State Corporation Commission and other agencies to plan how best to build out the tens of thousands of charging stations needed to service a planned EV fleet, and whether the state's utilities should own them. If they do become additional assets of the monopoly utilities, the investments could enjoy the same guaranteed high-return profit margins they earn on power plants and transmission lines.

Last but hardly least, Dominion Energy Virginia is pushing again to provide – subsidized by general ratepayers – more than 1,000 electric school buses, which cost three times as much as a bus fueled by gasoline or diesel. A small utility-controlled EV school bus pilot is already underway.

A similar electric bus proposal was defeated late in the 2020 session, but now is back with both House and Senate versions, each successful so far but incompatible. The House version was initially funded with a new 5 cents per gallon tax on off-road diesel fuel, used by farmers and manufacturers. That tax was estimated to raise $3.2 million annually but was stripped out of the bill, leaving it with no funding mechanism.

The Senate bill funds the school buses by treating them as mobile energy storage devices. It would allow the utility to charge ratepayers for them the same way it will charge for the other energy storage systems mandated by 2020's Virginia Clean Economy Act. Ratepayers would even pay schools a compensation for accepting the utility-owned vehicles in their fleets.

The Senate bill would limit Dominion to 1,250 buses statewide, at least at first. Enthusiasm over replacing $100,000 conventional buses with $325,000 electric buses just drips from a Virginia Business story on the proposal that reads like a company media release. There is no mention in the article about utility ratepayers buying these buses, not the school systems.

Setting what may become an interesting precedent, the bill treats the bus and all the related equipment as pollution control devices, and thus exempt from any state and local property tax. That is not the normal tax treatment of utility assets.

With the generous customer rebates on the table, Virginia's auto dealers have joined in pushing for both that proposal and the related bills. Auto Dealers Association President Don Hall put its arguments in a guest column for the Richmond Times-Dispatch last month, and the advocacy didn't stop with the taxpayer subsidies for the cars.

"We also need infrastructure. In California, for example, there are more than 7,000 charging stations with more than 30,000 outlets for EVs to plug in. Virginia has only 711 stations with 2,150 outlets," Hall wrote. "Virginia should be committing no less than $720 million over the next five years to prepare and grow market demand. These funds need to be appropriated by the commonwealth and must happen in advance of any mandate becoming effective."

As with the Virginia Business article, his is silent on who might pay for all that.

The enhanced rebate amounts of $4,500 for a new vehicle and $3,000 for a used one would be available to buyers with incomes at or below 300 percent of the federal poverty level, or about $70,000 for a family of four. Millionaire Tesla buyers would get at least $2,500.

A fiscal impact statement for the bill projects over $20 million in taxpayer-financed customer rebates in 2022 and about $75 million by 2026. The early funding was to come from raiding an existing fund for coal industry tax credits. Another pending bill ends those credits as of this year.

But the rebate legislation was amended before passing the House, removing any reference to that coal industry fund. As it now stands, the General Assembly would need to find another funding source or tap General Fund revenues to start offering the grants in future years. It can pass the bill now and fund the grants later.

One of major goals of the VCEA last year was to put the electricity providers on strict demand reduction targets, but apparently the General Assembly is willing to make an exception for electric vehicles. A late, one-sentence amendment to the bill authorizing the air board regulations would remove EV-related demand growth from those calculations. Use all the power you want for that.

A year from now, the General Assembly will point to all this and claim Virginia is ready to join the TCI compact, ready to tax and ration motor fuels and raise family transportation costs to a level where the EV option is no longer that much more expensive.

Corvette in the summer sun in Williamsburg
The Briefs
John Kerry, the U.S. special presidential envoy for climate, once said that a private jet is the "only choice for someone like me" while traveling to accept an award for his climate activism. Reporter Jóhann Bjarni Kolbeinsson was one of the first to confront Kerry over his choice of travel, saying, "I understand that you came here with a private jet. Is that an environmental way to travel?" Kerry said it was his "only choice" and touted his record on climate activism to justify his high-emissions mode of travel. "If you offset your carbon – it's the only choice for somebody like me who is traveling the world to win this battle," Kerry said.

According to data from Fox News, Kerry has spent over 22 hours in his Gulfstream GIV-SP jet in a period of less than a year. That's roughly 116 tons of carbon emitted between February 9, 2020, and January 10, 2021. To put that in context, it's about the same output that 25 automobiles produce over the course of a year, based on the Environmental Protection Agency's estimate of 4.6 metric tons of carbon dioxide emitted annually from the typical passenger vehicle.

Toyota Motor Corp plans record high global production of 9.2 million vehicles this year, up about 2 percent from 2019's pre-coronavirus output, the Nikkei newspaper reported. The automaker has informed its main suppliers of the plan, which reflects sales momentum in China and demand recovery in North America and Japan, the Nikkei said, without citing sources. Toyota is expecting solid sales around the globe this year thanks to the release of coronavirus vaccines, the newspaper added.

Virginia State Police said a man was killed and a woman was injured after they were shot by passengers in a vehicle along Interstate 85 in Petersburg. Police said the couple gave a ride to two men they met in the 600 block of Boulevard in Colonial Heights who were hitch hiking after midnight.

Edelbrock, manufacturer of some of the most popular performance aftermarket intake manifolds and cylinder heads for our favorite V-8 engines, is packing up its Torrance, California, headquarters over the next two months. The facility, Edelbrock's home since 1999, has 270 employees, most of whom will be laid off. The first layoffs were announced on January 15. Edelbrock joining forces with Comp Performance Group, owners of Comp Cams and a number of performance aftermarket companies, is what set this change in motion. The union brings into existence one of the largest conglomerates in the performance industry. Edelbrock began moving some of its operations to a new facility in Olive Branch, Mississippi, beginning early in 2020. That new location will be the future headquarters of both Edelbrock and Comp Performance Group. Comp Cams is leaving its longtime home in Memphis, Tennessee.

As paramedics in Houston responded to a call on Jan. 21, Renaldo Leonard, 36, jumped into their Houston Fire Department ambulance and drove, emergency lights flashing, about 4 miles to a Jack in the Box, where he got in the drive-thru lane, according to police. The Smoking Gun reported the ambulance was tracked to the restaurant, and Leonard was arrested and charged with felony theft of the vehicle, which is valued at more than $150,000.

Authorities who pulled over a pickup truck in Elsberry, Missouri, soon discovered the vehicle had been stolen, KMOV-TV reported on January 25, so they headed to the owner's home, where they found skeletal remains in another vehicle in the garage and a ransacked house. Lincoln County Sheriff Rick Harrell said the body may have been there since last summer and "a group of criminal opportunists ... had just ransacked the residence and taken many items. We've recovered stolen vehicles, stolen firearms and tens of thousands of dollars in other related items." The scavengers would have had to walk right past the body for months as they removed items, he added. Prosecutors are working to bring charges against 25 suspects, and there may be more, authorities said. Investigators have not yet identified the remains or determined exactly when the person died.

Vehicles that were built in 2019: China=25.72 million, United States=10.88 million, Japan=9.68 million, Germany=4.66 million

GM is extending temporary shutdowns at three assembly plants from this week to more than a month due to a global shortage of semiconductor chips. The impacted plants produce a car and crossovers in Kansas; Ontario, Canada; and San Luis Potosí, Mexico. The shutdowns, which will be re-assessed in mid-March, are meant to assist the company in maintaining production of more profitable pickup trucks and SUVs.

Music icon Bruce Springsteen was arrested for DWI in New Jersey last year, reports revealed days after he appeared in a Super Bowl commercial for Jeep. Authorities arrested Springsteen, who is due in court in several weeks, on Nov. 14 at Gateway National Recreation Area in Sandy Hook, New Jersey. He was cited for DWI, reckless driving, and consuming alcohol in a closed area, according to TMZ, which first reported the arrest. A spokesperson for the National Parks Service confirmed the arrest to the New York Post.

How did Shell Oil get its name? Shell Transport and Trading Company was founded in 1833 as a seashell importer.

Black Camaro with red stripes
What If You Held A Mandatory EV Party And Nobody Came?
From: Hagerty.
Start with this: Moore's Law was never a law. It wasn't even a theory. Didn't even make it to hypothesis grade. This is what it was: bunk.

If you've never heard of Moore's Law, no worries. We'll get back to it in a moment. For now, let's go to the news: Last week, according to my sources, the nice people at Genesis Motors formally notified their dealers that there would be no new "ICE"—meaning internal combustion engine—Genesis vehicles in the future. Everything you see in their showroom, including the charming G90 grown-and-sexy sedan, is the last of its kind. All electric from here on out.

This notification, following nicely on the heels of Cadillac's similar pronouncement, definitely smacks of follow-the-leader thinking. The "leaders" in this case are all the government mandarins and mountebanks who have implemented drop-deadlines to abolish the "ICE" at some point in time that is always beyond the limits of their current term.

The automakers are actually egging the feds on here; two years ago, they met with President Trump and begged him to make sure the CAFE requirements kept climbing to the point where it would eventually be impossible to make gas-powered vehicles.

There's a reason for that, and it's simple: Electric Vehicles (EVs) are somewhere between toys and trash, a situation that will continue for the foreseeable future. So the whole auto industry is currently engaged in a trillion-dollar Prisoner's Dilemma that goes something like this:

0. If none of the automakers go electric, the government will presumably go nuts.
1. If all of the automakers go electric, the consumers will go nuts.
2. But if most of the automakers go electric and a few don't, the few holdouts will likely experience tremendous market gains and profitability as a consequence, while the electric sheep get SHEARED.

An executive like DeLorean, Ghosn, Lutz, or Piëch would roll the dice on that third scenario, but we don't have that kind of courage in CEO chairs anymore. So the automakers are begging the government to make EVs mandatory, thus preventing a scenario where GM spends nine quadzillion dollars on a profoundly misery-inducing EV Silverado 1500 with a minimum MSRP of $49,999 only to find out that Stellantis is releasing the "RAM Tradesman Hellcat Quad Cab" at the same price. In the ideal automaker scenario, ICE cars are universally illegal to sell from 2035 on, thus freeing everyone to bet the whole farm on EV production.

This scenario, of course, is dependent on EVs somehow managing to transcend the toys-or-trash status they currently enjoy. Everyone assumes this will happen, even though they have no precise idea how. Just like they all counted on Moore's Law.

What is Moore's Law? Why, it's the assertion that computer processors double in transistor count, and therefore power, every two years. This was kinda-sorta true for a long time, largely for marketing reasons. In other words, every so often someone would make a major improvement in CPU production, and then the marketing team would dole out the results over time. There came a day, however, where it no longer applied, because there was no clear path to the next required technological breakthrough.

This is why my 2016-era laptop still runs modern computer games pretty well, and why many companies have extended the lifespan of employee computers to somewhere between "three years" and "when it can't be fixed." It also means that the computer-hardware industry will be facing hard times until it comes up with the next processor-manufacturing breakthrough. Intel, in particular, has thrown up its hands on the whole matter, deciding to outsource future processor development to Taiwan. So if you're waiting impatiently on a terahertz computer, you're going to have to keep waiting for a while.

The big logjam for EV progress, of course, isn't really computer-related. Pretty much everyone understands how to make an EV work now, even the second-tier automakers, although certain refinements like effective traction control and HVAC are still largely honored in the breach rather than the observance. The real problem is in the charging and discharging. EVs are slow to charge and inefficient when they discharge. Currently, the best charging/storage systems offer "1000 miles an hour," which is a way of saying you could charge 1000 miles' worth of range in an hour, if any of the EVs out there could actually go 1000 miles between charges, which they cannot. Call it "400 miles in less than half an hour."

An F-350 Super Duty Diesel can "charge" four hundred miles' worth of range in … oh … let's say the pump is running slow today … three minutes. (If you want to wait a minute or two longer, you could fill all 48 gallons and run for 700 miles, of course.) My 2014 Honda Accord can charge 400 miles of range so fast I don't have time to get all the McDonalds' bags out of the back seat. Largely because it gets about 31 mpg in freeway usage now, up from the 29.5 mpg it got 87,500 miles ago. I mention this because electric vehicles have battery degradation built into the design. The best retain maybe 90 percent after a few years, while the worst retain less than half. You can replace the packs, of course —at five-figure cost. If you've ever owned a water-cooled Porsche, the idea of dropping $20K on a motivation swap won't discourage you tremendously. The average motorist may feel differently.

The price of batteries is dropping, and their range is increasing, but you need to understand that there is nothing inevitable about it. The batteries of 2035 might offer an energy density and recharge time similar to that of an "ICE" car. Or they might not. We have literally no way to know. Anybody who says "OMG SHUT UP ABOUT THAT, SCIENCE WILL HANDLE IT" has never personally done, or even witnessed, any science that didn't have "social" as part of its name.

Current battery tech, which uses liquids, is basically exhausted. We're on detail improvements now; there are no "doublings" left. The next generation is a gel battery, with the highest performance found in lithium-polymer (LiPo) types. You don't want these in your car; they burst into flames when you look at them wrong. The promised-land tech for batteries is a solid-state version with neither liquid nor gel, likely using some kind of carbon structure. This would result in batteries that are much lighter, much faster to charge, and much more energy-dense than what we have now. It would also address the extremely inconvenient fact that today's batteries rely on materials that are either rare or harvested in the kind of hellish conditions that would make Dante blush. (Let's not even get started on the stuff you need to make electric motors, or the way in which the market for that stuff has been largely cornered by a country that is very much not the United States.)

Toyota has a solid-state battery coming, but it uses lithium, which is not necessarily any less precious in the long run than crude oil. Volkswagen has an investment into a better solid-state battery, but it's still in the lab. How worrisome is this? Let me rank the difficulty of a few different tech dreams for you, starting with the ones that will happen sans any major innovation and ending with the ones that need a miracle:

Solve the world's freshwater problem via desalination: We know how to do it, but it is energy-intensive and requires tremendous capital investment.
Large-scale carbon capture, reversing the greenhouse effect: We know how to do it in theory, but the practice may prove to be difficult due to the interaction of energy and scale.
Battery-powered vehicles that work like gas-powered ones: The theory is sound, but the construction of batteries meeting the requirements will require a few technical advances that are known but unaccomplished, plus a few that are unknown and unaccomplished.
Fully autonomous vehicles: This requires something very close to "strong AI," which is currently not possible with any reasonably likely processor pathway, and it requires us to understand processes that model consciousness, from which we are just as far away as when Isaac Asimov wrote Foundation and the TV was showing Lost In Space.
Faster-than-light space travel: All the available data seems to suggest that it is literally impossible, no matter how much energy and tech you put into it.

So effective EVs are less likely than clean water for the whole world, but more likely than "Warp Factor 9, Mr. Scott!" I don't know if you'll be encouraged or discouraged by this. No doubt some of my colleagues without any technical background will break their necks pointing out that "OMG THERE ARE ALL THESE SCIENTISTS WORKING ON IT WHO KNOW MORE THAN YOU DO!" This was also true of everything from "remote viewing" at the CIA to flying cars, with a dollop of Chrysler Turbine on the side. There's a very long list of technologies that have attracted considerable and distinguished effort while going precisely nowhere, and many of them are more plausible in theory than the three-minutes-to-full EV battery. Let's not even get into the whole nanotech scam. Twenty years ago, hundreds of respected scientists assured us that we would soon have "molecular assemblers." In reality, chances are that the only "nanotech" you've ever encountered in the wild has something to do with car wax.

The future of 2035, therefore, can go one of two ways. In Scenario Ideal, the solid-state battery breakthrough happens on time, on schedule, and under budget. Tomorrow's cars are just like today's, except they use the clean, pure energy provided by your local coal-burning power plant. All the automakers survive. There's a managed draw-down of the gasoline infrastructure in which gas stations gradually become charging islands, offering both services until at least 2046 because the average car on the American road is 11 years old. By 2055 or so, the "ICE car" will go the way of the horse, which is to say that rich folks will still race them and children will still dream of them, but you won't see them on Main Street.

If that happens, then every mindless idiot in American industry and government will have been saved from auto-petard-hoisting via a near-magic tech intervention, the same way we all stopped worrying about feeding the world when someone figured out how to turn natural gas into fertilizer. That would be nice. Everyone's counting on it. What if it doesn't happen?

In The Other Scenario, the promised battery improvements do not arrive. Instead, we get maybe a safer and more efficient gel battery, or something like that. The cost of EVs is still 25 percent higher, at minimum, than the cost of ICE equivalents. Charging takes 15–20 minutes for 500 miles, assuming you can afford the 500-mile version of the car. Winter is a problem, serious winters doubly so. There's a significant and perhaps unpredictable decline of battery performance over time, making used cars basically worthless in the long run. (Remember, the average car is 11 years old, an age at which a Nissan Leaf or Chevy Bolt is not all that distinguishable from a macro-scale paperweight.) The service infrastructure is a nightmare, because there are several different battery technologies in production.

At that point, my friend, you're going to see the cockroaches scatter.

If I had to guess, I will say the inflection point will be in 2030. The automakers generally like to work five years ahead on serious stuff, particularly serious stuff that requires major changes in assembly techniques. If the Magic Batteries aren't performing to production spec by then, it will be hard to design functioning vehicles and production processes around them. The first automaker to publicly panic about this will be roundly pilloried by the unified messaging of today's mass media. The second one will get less attention. And so on.

I'd like to tell you that cooler heads will prevail at that point and we'll continue with a gasoline-powered fleet, perhaps at a 35–40-mpg CAFE, but as this process drags on I'm starting to believe that some people in positions of power consider the potential incompetence of 2035's EV fleet to be a feature, not a bug. In other words, they would be more than happy with a world in which you really couldn't travel more than a few hundred miles without some serious pre-planned effort. I believe Frank Herbert put some words to this effect in the mouth of Leto II, but I can't be troubled to look them up. Maybe you can.

History tells us that the reaction to such a deliberate curtailment of human freedom would be pretty negative, to put it mildly, but some of these folks think they have O'Brien's ability to float off the floor like a soap bubble. In fact, pretty much all of them exist in a perpetual kind of Year Zero. And who can blame them for feeling that way about the private automobile? They'd just be rectifying a relatively short-lived minor error made by one Henry Ford when he turned the Model T into the decisive tool of American freedom. And didn't Henry tell us himself that history, much like Moore's Law, is just bunk?
Repair Mistakes & Blunders
From Rock Auto
About ten years ago, and in need of cheap transportation, I bought a 1999 Saturn SL1 that was advertised as needing a clutch. After making the deal, I limped the car home with the clutch slipping all the way. After spending a solid weekend tearing everything down and installing the new clutch, I was having trouble re-installing the clutch slave cylinder assembly. It was impossible to get it into position! I ordered a new one and installed it with no problem.

Only after the entire project was complete did I realize that it should have been a much easier task. The old slave cylinder was stuck in a partially extended position and was keeping the original, and perfectly functional, clutch from engaging all along!

Matt in Illinois

AC Cobra
South African Teen Is Too Young to Drive so He Builds His Own Car Using Scrap Metal
From The Epoch Times
Necessity is the mother of invention. In South Africa, a 17-year-old boy was inspired to turn a pile of scrap metal into something extraordinary—all because of a dream he had of being able to drive his own car.

Obankeng Thetele knew he would have to wait until he finished school before he could afford a car of his own. So, instead of waiting and saving up, he began collecting scrap metal.

What the young inventor created has since made an impression on the internet.

Thetele built his very own car. And he shared his incredible accomplishment on Facebook, in which he captioned: "I couldn't wait to finish school and buy a car for myself, so I built it. My dream is to build a proudly South African car one day."

Thetele's car, designed like a small pickup truck, is made from bicycle parts, sheet metal, and a motor, all welded together.

Thetele told The Epoch Times that he's been fixing cars since childhood. "When I was young, I used to help my father fix cars," he said. "That made me interested in motor inventions."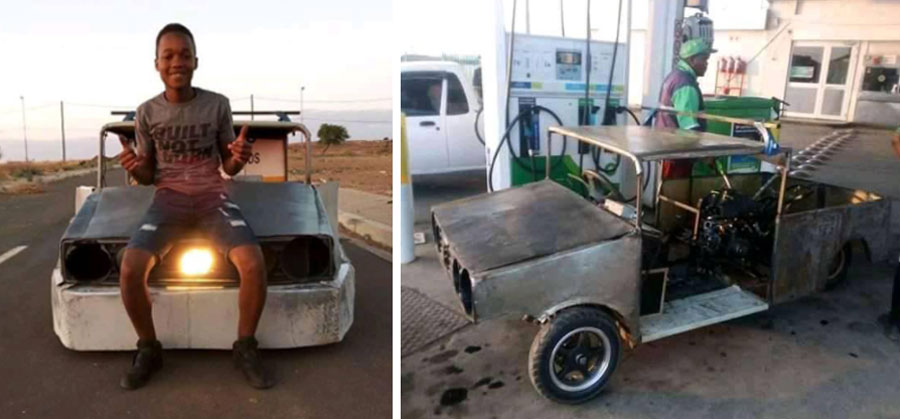 He started collecting scrap metal as early as 2018, including bicycle wheels and other spare parts.

"My father bought me a second-hand scooter to finish my project and it worked," he recounted. "No one helped me because I wanted to see if I can do it by myself, and the only thing that my father taught me is welding, fixing, and how to hold a grinder."

Remarkably, this isn't the first automobile he's built, either.

"I have videos where I'm driving and spinning the two cars I've built," he shared in the comments below his Facebook post. "To see them please like my page, Homebuilt Projects."

In an interview with Free State Online Channel, Thetele can be seen lifting the hood of his scrap metal car to show the engine he installed borrowed from a scooter. His ingenuity is apparent. The car has its own radio, and even makes use of upcycled parts such as coffee cans.

It didn't take long for Thetele's post to go viral with over 23,000 reactions and 1,200 shares.

People left encouraging comments, amazed by Thetele's work.

"You are awesome," said one comment. "I will be first in line to buy one of your cars. I am sure you will succeed."

The Facebook group #ImStaying, where Thetele's post went viral, is a South African support group dedicated to focusing on the beauty and positivity in South Africa, encouraging people to work as one to make a positive difference in the country.

Mustang GT convertible
Support the RPM Act
Sign at this link: www.votervoice.net/SEMA/campaigns/45394/respond

The RPM Act is common-sense, bi-partisan legislation to protect law-abiding citizens who convert cars, trucks and motorcycles into racing vehicles. The bill clarifies that it is legal to make emissions-related changes to a street vehicle for the purpose of converting it into a racecar used exclusively in competition. It also confirms that it is legal to produce, market and install racing equipment.

UPDATE TO THE RPM ACT - click link below
www.sema.org/epa-news

1971 Mach 1

VW Bug
© 1999 - 2021 Car Club Council of Central Virginia, Inc - All Rights Reserved