"The Relay" Online Newsletter
September 2017 Issue
This is the monthly online newsletter for the car club council. All car hobbyist events are listed on this site under "Calendar." Just click on the link above to view the list of car shows and other activities.
President's Message
We had a great meeting at the Richmond Auto Museum in August. Bruce Woodson was a wonderful host plus there were some different vehicles there since the council met there last year. Bruce's wife Carol supplied us with a BBQ dinner with a variety of great tasting food - most of which she prepared herself. We had a surprise guest speaker, Larry Anderson who is with the National Street Rod Association. He invited all to the NSRA Appreciation Day on September 17. I've been to this event before and it has been and will continue to be a real good one. There is no registration fee and the first 100 get a dash plaque. The famous NSRA safety inspections are available. It will be at a new location with great food and a lot of things to see and do. Check the calendar for more info.

We are waiting to hear if we will have a sponsor for the exhaust bill. I know a lot of people don't worry about exhaust because most police - including the State Police - don't seem to care about exhaust noise unless you are dragging exhaust parts behind your vehicle. But it is important. Our meeting with the Safety Department of the State Police last fall was eye opening. The State Police consider the conversion of a factory single exhaust to dual exhaust to be a violation of the law. And according to the current state law it is a violation. That is how absurd the law is! Most older vehicles with V-6 or V-8 engines and some with inline engines have already been converted to dual exhaust. A dual system not only deceases emissions but increases gas mileage. It is also easier for exhaust shops to create a dual system instead of fabricating a Y-pipe for single exhaust.

Installation of Flowmaster, Magnaflow and other aftermarket parts become illegal as soon as you drive on a public road. These exhaust parts can increase exhaust noise which is forbidden by the current state law. There big problem is there are no factory replacement parts for stock exhaust systems for older vehicles and we are talking about vehicles that are between 42 and 67 years old! Aftermarket parts have to be used and no one makes exhaust parts that are quieter than factory parts. And where do you get factory exhaust parts for Packards, Studebakers, Nashes, Ramblers and even most Fords and Chevys? Plus in the land of the free shouldn't we have the freedom to choose? The State Police have no problem with upgrades such as radial tires, overdrive transmissions, updated suspension and steering parts and later model electrical parts but insist we use the exact factory exhaust parts that no longer are made. This just doesn't make any sense.

What do we do if we can't get a bill sponsored to move from pre-1950 to pre-1975 freedom of exhaust choices? Then we will have to look at changing the entire exhaust law. Instead of having a few thousand antique car hobbyists on our side we will have hundreds of thousands of car hobbyists who own special vehicles and want aftermarket exhaust parts on those vehicles. That many voices would be hard to ignore.

Next month I will post the location of our October meeting. We decided to have it on October 23rd instead of on the 30th.

~ Fred

18th Annual Southern Knights Cruisers Veterans Car Show
See all the photos
Next Meeting
Our next meeting will be on Monday October 23rd at 6:30 PM at a location to be announced in the October newsletter.
VW To Bring Back Microbus
By: Joe DeMatio of Hagerty
Today, at the Lodge at Pebble Beach during Monterey Car Week, Volkswagen officially announced the return of the Microbus to America. The all-electric, modern-day Bus will be based on the I.D. Buzz concept vehicle, which VW displayed at this year's Detroit auto show, and it will be electric-powered, part of a series of all-new electric vehicles VW will sell in America beginning in 2021. Yes, the most egalitarian of all people movers was announced on the same lawn where the Pebble Beach Concours d'Elegance, with its hundreds of millions of dollars' worth of rare exotic and collector cars, is held. If this seems ironic, Dr. Herbert Diess, global head of the Volkswagen brand, points out that "Pebble Beach is so important to the emotional part of our industry, and the Microbus is the most emotional car, the most iconic car, Volkswagen has ever built."

The modern Microbus will be built on Volkswagen's new global electric platform, called MEB, for "Modular Electric Baukasten," with Baukasten meaning, simply, toolbox. "Our previous attempts to reinvent the Microbus [for America] never worked out due to platform issues," explains VW's North American chief, Hinrich Woebcken. "The beauty of the I.D. Buzz is that the vehicle is scalable. The interior can be stretched as we wish, as we aren't having to make room for an engine and transmission." Hence the production version of the Microbus, as yet unnamed, might have slightly smaller exterior dimensions than the I.D. Buzz concept.

But the electric Bus will not be the first electric vehicle that Volkswagen will offer Americans. VW will kick off MEB-platform production with a vehicle for China in 2020, followed by at least one electric car for America in 2021, most likely a small crossover. The Bus will debut in 2022 as a capstone for Volkswagen's initial efforts to transform its fleet to electric propulsion, a crucial goal for the automaker as it tries to put its diesel powertrain scandal behind it.

Ahead of today's announcement, Volkswagen assembled a fleet of T1- and T2-generation Microbuses that drove in convoy from Cannery Row in Monterey, through the village of Pacific Grove, along the famed Seventeen Mile Drive, and onto the eighteenth green of the Pebble Beach golf course, and the Volkswagens got more attention than any priceless Ferrari ever would. Everybody loves the Microbus, even if everyone doesn't love Volkswagen.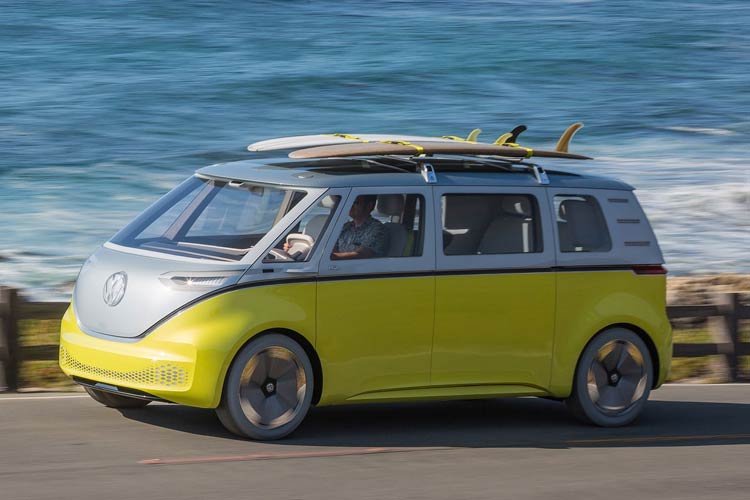 The all-electric Volkswagen I.D. Buzz concept
Car Hobbyist News
Here is a reminder to all who own antique vehicles – there is no local tax on these vehicles of any kind. During the last session of the General Assembly a law was passed ending the so called local registration fee. This isn't a fee but a tax sometimes called a sticker fee. Many localities have gotten rid of the windshield stickers but retained the tax. Chesterfield County ran an ad in a newspaper about an August 23rd public hearing on taxing antique vehicles. A couple of alert hobbyists saw the post and contacted me. I contacted several people in Chesterfield government. The hearing was on a change in an ordinance to bring it in line with the newly passed state law banning registration fees for antique vehicles. So if your antique is being charged any local fee contact me so I can investigate. I've also heard from people who are concerned that Chesterfield lists the value of antiques at $100 for tax purposes. This is just how the program was set up and you will not be taxed on your antique in Chesterfield. It took me years to get all the localities in Virginia to stop the illegal taxing of antique vehicles. Contact me if you have questions about your locality.

I have heard from a staff person for the member of the General Assembly I contacted on the possible exhaust bill. I have been told the request is being reviewed and they will get back to me soon. Hopefully we can get at least a bill into the assembly and then work on getting it into law. If we can't get a bill to change the exhaust law for antiques made from 1950 to 1975 this year then next year we may look at changing the entire exhaust law. The current law is hard to enforce and prevents the installation of dual exhaust on vehicles that came from the factory with single exhaust. It also makes it illegal to install aftermarket exhaust parts that emit more noise than factory parts. Since no company makes mufflers quieter than factory mufflers this means any aftermarket muffler is illegal when installed on a vehicle that is used on public roads.

Al Gore's latest movie on climate change is bombing at theaters. His previous award winning movie on climate change had several predictions that did not come true. He said in that movie that the artic and Antarctica would be ice free by now as well as mountain tops. He also has predicted that rising oceans from that melting ice would flood beach fronts. He predicted that polar bears would continue to decline in population.

The facts are those mountain tops, artic and Antarctica still have plenty of ice – in fact more ice. Polar bears have increased in number. In 2010 Al Gore bought an $8.9 million oceanfront beach house in Montecito, which has long been a haven for Southern California's rich and famous. Apparently Al isn't worried about his beach getting flooded by the melting ice. Do as Al says not as he does - one example is the heating of the pool in one of his three homes uses six times the electric energy of an average home in America.

I think the "inconvenient truth" here is that even Al doesn't believe his climate change hype. Al's net worth when he ran for president in 2000 was estimated to be between $700,000 and $1.9 million (including his $500,000 home). Today his net worth is estimated at $200 million. Climate change pays well.

Of course some people are just a little bit crazy about climate change. I've seen articles that say people shouldn't own dogs or cats because they contribute to climate change. Here's a quote: UCLA professor Gregory S. Okin concluded in a study published recently that certain pets, specifically dogs and cats, have a "significant" impact on greenhouse-gas emissions as a result of their meat-based pet-food consumption and feces production. What's the answer? "Reducing the rate of dog and cat ownership, perhaps in favor of other pets that offer similar health and emotional benefits would considerably reduce these impacts," Mr. Okin said in his study, "Environmental impacts of food consumption by dogs and cats," which appeared August 2 in the journal PLOS One.

Not only are dogs and cats responsible for climate change but we humans also. I've seen one website that asks people to sign a pledge not to have children so "humans will go extinct and mother earth will be allowed to heal." Yes, they are that crazy.

The good news – gasoline prices have remained low this summer. This has helped to fuel our economy and create jobs. The United Auto Workers have failed for the third time to organize a union at a Nissan plant in Mississippi. Take a look at this quote from an online news article: Employees' overwhelming rejection of the United Auto Workers at a Nissan plant in Mississippi stung the UAW so badly that the vote had barely ended when the union filed unfair labor practice charges with the National Labor Relations Board. A likely factor in this latest UAW defeat — federal prosecution of former high-ranking UAW and Fiat Chrysler officials who allegedly diverted training funds illicitly — isn't going away: "the Free Press has learned that other former UAW officials are likely to be charged." Simply put, it's past time for the UAW to take "no" for the answer to its quixotic, down-South organizing quest.

Unions were needed in the past but today workers are rejecting unions. This means lower priced vehicles.
News From SEMA
Click the link for the story on the proposed legislation.
Maine Single License Plate Bill Dies as Legislature Adjourns

Missouri Bill to Permanently Register Historic Trailers Dies as Legislature Adjourns

Louisiana Bill to Exempt Antique Motor Vehicles From State and Local Taxes Dies as Legislature Adjourns

South Carolina Introduces Resolution to Create Study of Mileage-Based User Fee/a>

Bill to Provide for Single License Plate in Missouri Dies as Legislature Adjourns



Franklin Cruise In
See all the photos
Mitsubishi i-MiEV
Here it is the 2017 Mitsubishi i-MiEV - an all electric car like Al Gore wants you to buy and use. You can get it for as little as $22,995 or about what you can pay for a 2017 Mustang with V-6 and 300 horsepower. But this electric has all of 66 horsepower and it can limp up to a top speed of 80. It can take up to 22 hours at 110V to charge it. You know 110V is used to charge your cell phone and lap top. It will go down to 6 hours if you use 240V charging. But it is worth the wait to charge as you can go all of 63 miles on that one charge. And what if it runs out of battery - no problem it's light and easy to push - just like the computer mouse it resembles. In fact some car reviewers are calling this one of the worse cars of 2017. Below is a picture.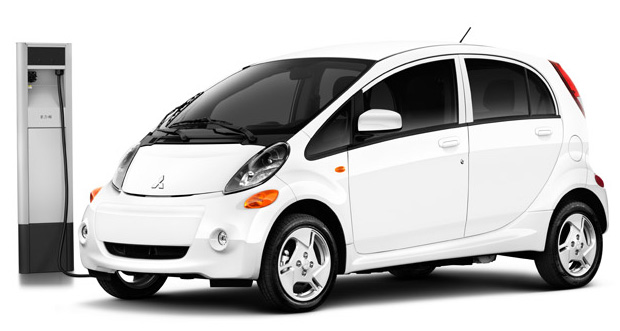 Looks like a big computer mouse
This is from Consumer Reports:
"The i-MiEV is one of the cheapest all-electric cars available. But the downside is an underdeveloped vehicle that is slow, clumsy, stiff-riding, and plebeian inside. It takes between 6 and 7 hours to charge on a 240-volt, Level 2 charger, or 21 hours on a standard 110-volt charger. Its range is EPA-rated at 62 miles, although we generally got around 59 miles. We measured its energy consumption at 111 mpg equivalent. The motor puts out a meager 66 hp. In comparison, the five-seat Nissan Leaf--with its roomier interior, more comfortable ride, and longer driving range--feels like a real car and is a far better choice."
Hagerty Insurance Introduces DriveShare
At Hagerty, we believe there's nothing better than getting behind the wheel of an amazing car – our ultimate goal is to connect people to the cars they love. That's why we're proud to introduce DriveShare by Hagerty – the only peer-to-peer enthusiast car rental platform in the U.S. Think Airbnb for collector vehicles.

DriveShare is a unique community where car owners and pre-screened, highly qualified renters come together to share the experience of driving incredible cars.

With DriveShare, enthusiasts have access to a virtual garage of the world's best cars. Whether you're traveling and don't want a boring, cookie-cutter rental or you just want to experience something new and different, DriveShare is your answer. As an owner, it's also a great way to generate some additional income to offset ownership expenses or justify a new purchase. Owners are in full control over the entire rental process – price, mileage, deposit and more. DriveShare thoroughly screens potential renters and provides insurance and roadside assistance during the rental period.

For more information, to see what cars are available in your area to rent, or to list your car, check out DriveShare by Hagerty today!

Virginia Classic Cruisers Open Car Show
See all the photos
New Mustang GT to Go 0 to 60 in under 4 Seconds
How much faster do we need to go? We now have a Dodge Demon that can jerk the front wheels off the ground and an ever increasing horsepower race between what used to be called the Big Three. Here is the story direct from Ford:

Ford's most advanced and powerful Mustang GT is also the fastest ever, achieving 0-to-60-mph in less than four seconds in Drag Strip mode.

The new Mustang is also faster than a $94,000 Porsche 911 Carrera, which Carl Widmann, Mustang chief engineer, attributes to five factors:

Improved horsepower and torque output of the redesigned 5.0-liter V8
Maximum acceleration of available Drag Strip mode
Quicker, smoother shifting of the available 10-speed SelectShift® transmission
Optimized traction courtesy of the available custom-designed Michelin Pilot Sport 4 S tires on new Performance Pack
"Typically, when you shift gears, you give up time," said Widmann. "In Drag Strip mode, the engine torque doesn't drop when you're shifting. You get peak engine torque and horsepower straight through thanks to our new Ford-built 10-speed transmission."

The car's 5.0-liter V8 now features dual-fuel, high-pressure direct injection and low-pressure port fuel injection technology for increased power and efficiency. The engine's 460 horsepower and 420 lb.-ft. of torque represent improvements over the current model's 435 horsepower and 400 lb.-ft. The result is an engine that delivers robust low-end torque, high-rpm power and improved fuel efficiency.

Drivers of EcoBoost®-equipped Mustang also will feel increased power on the strip. The retuned EcoBoost four-cylinder generates 310 horsepower and 350 lb.-ft. of torque – a 30 lb.-ft. gain over the current model. In Drag Strip mode with Performance Package and the 10-speed automatic, the 2018 EcoBoost-powered Mustang posts an impressive 0-to-60-mph time of under five seconds.

Drag Strip mode – one of five driver-selectable modes available for 2018 – has been designed to provide maximum acceleration and performance for straight-line driving. Drag Strip mode is primarily controlled by the transmission and delivers a significant acceleration boost, eliminating the lost time usually associated with automatic shifting.

The new 10-speed transmission, with a wide-ratio span and optimized gear spacing, helps deliver higher average power for acceleration – resulting in improved responsiveness and performance. The 10-speed architecture features Ford-patented power-flow and Ford-patented direct-acting hydraulic controls. It's designed for optimum ratio progression and efficiency, and provides more accurate, quicker upshift and downshift capability.

In addition, an all-new electronic control system features real-time adaptive shift-scheduling algorithms engineered to help ensure the right gear is engaged at the right time, including skip-shift and direct downshift capability.

Compared to the outgoing six-speed, the new 10-speed automatic has quicker shift times and better low-speed tip-in response. It's uniquely tuned for all five drive modes – normal, sport, track, Drag Strip and snow/wet. Steering wheel-mounted shift paddles allow drivers maximum manual control.

"Gearing matters, and in Drag Strip mode, this car launches better than ever off the line," said Widmann.

Fans will be able to build and price their very own 2018 Mustang from July 25 by visiting www.ford.com/mustang/2018. New Mustang is due to reach showrooms this fall.

Elvis Night at River City Diner
See all the photos
Good Neighbor Mode
While we try to get exhaust freedom for our antique vehicles Ford has come up with a "good neighbor mode" exhaust option for the 2018 Mustang GT. This will allow owners to change the exhaust tone and loudness of their vehicle. Here is the story from Ford:

Someone called the cops on Steve von Foerster. The former head of vehicle engineering for Ford Motor Company wasn't thrilled, but he understood why.

On an otherwise peaceful morning in his suburban Detroit neighborhood, von Foerster had just backed a Shelby GT350 Mustang out of his driveway. As the car's V8 engine thundered, an annoyed neighbor set aside their coffee cup and dialed 911.

Von Foerster had left before the officers arrived, and he didn't end up with a ticket. Nor did he get angry. What he got was an idea for the new Mustang.

"I love the sound of the V8, but it can be loud, and you can't annoy people like that in your neighborhood," said von Foerster, who now leads Ford's user experience team in product development. "It sounds so cool, but I thought, 'There has to be a way to give people more control over the engine's sound.'"

The experience fueled a discussion between von Foerster and fellow Mustang program team members that led to development of Quiet Exhaust mode and industry-first Quiet Start, known as "Good Neighbor Mode" among Mustang engineers. The new features on properly equipped 2018 Mustang GT vehicles allow drivers to keep engine sound at a minimum if they wish and to program quiet start-up times in advance.

While some sports cars offer active exhaust systems with on/off functionality, Mustang's Quiet Start is the first to allow scheduling of times. Using steering wheel-mounted thumb controls, drivers toggle through a menu in the instrument cluster to select when they want to fire up their Mustang GT without sharing the event with neighbors. For example, between 8 p.m. and 7 a.m., drivers can keep the peace by scheduling their car to start, minus the roar.

Both new Quiet Exhaust mode and Quiet Start features will be part of the available active valve performance exhaust system on the new Mustang GT, along with different exhaust volumes for Normal, Sport and Track modes, giving customers more choice than ever before.

"Active valve performance exhaust gives Mustang owners the best of both worlds – that classic Mustang sound, and the ability to not wake up your neighbors when you leave the house early in the morning or arrive home late at night," said Matt Flis, Ford exhaust development engineer.

Neighborhoods across the country should be thrilled. According to a recent poll by Ranker.com, loud engine revving ranks among the most annoying noises neighbors make, alongside other common nuisances including power tools, barking dogs and band practice. Only early-morning lawn mowing is more robustly despised. With new Quiet Exhaust mode and Quiet Start, Ford is doing its part to keep the peace.

"When sounds get up into the upper-70-decibel range, that's typically about when they start to bother people," said Flis. "With quiet start activated, the decibel level of the new Mustang GT drops by about 10 decibels, to a much more comfortable 72 decibels – about the level of a household dishwasher."

On Mustang GT equipped with the available all-digital 12-inch instrument cluster, the exhaust mode menu appears within the pony menu. With the standard 4-inch cluster, exhaust mode is found within the settings menu.

Active valve performance exhaust is one of many changes Mustang fans will see when cars reach showrooms later this year. In addition to its restyled exterior design and refined interior, Mustang will offer an all-digital 12-inch instrument cluster, a 10-speed automatic transmission, MagneRide™ damping system and SYNC® Connect with FordPass™.

With its new Drag Strip mode, Mustang GT now reaches 60 mph in under four seconds – faster than a $94,000 Porsche 911 Carrera – setting a new standard as the quickest Mustang GT ever.

Diamond Heist Live Band at Extra Billy's
See all the photos
Support the RPM Act
Sign at this link: www.votervoice.net/SEMA/campaigns/45394/respond

2017 marks a new session of Congress. Bills that did not become law at the end of 2016 must be reintroduced for consideration.

Good news! The RPM Act is off to a fast start in 2017. The bill has been reintroduced in both the U.S. House of Representatives and Senate. The RPM Act of 2017 protects Americans' right to modify street cars and motorcycles into dedicated race vehicles, along with industry's right to sell the parts that enable racers to compete. You may be one of the thousands of supporters who contacted your legislators about the RPM Act in 2016. We appreciate your efforts and are in need of your support once again. Tell Congress to pass the RPM Act and save racing from government threat. It only takes a minute. Every letter counts!
Protect Your Right to Buy Ethanol Free Fuel
Below is a link to Fuel Testers - a website that is opposed to more ethanol in gasoline and would like to preserve our ability to purchase gasoline free of ethanol.
www.fuel-testers.com/petition_e15.html

The rest of the photos are from the Richmond Auto Museum where the last council meeting was held

Chrysler
DMV Titling Information
As promised I have a document about titling antique vehicles posted below for download. This contains information from the DMV speakers at the August 2015 meeting and some other information that I hope you will find useful. If in doubt about anything email or call the DMV administrators in the document; I have their contact information listed. And for the millionth time be sure to check to see if the VIN matches the VIN on the vehicle before buying it. This can save you a lot of trouble - just ask anyone who has purchased a vehicle without a matching VIN. There is also valuable info on purchasing an older vehicle from a non-title state. If you are thinking about buying a vehicle from a non-title state be sure to read it. Link to the document: Antique Vehicle Titling and Registration. I also have a bill of sale for use in buying or selling an antique vehicle: Bill of Sale; and a bill of sale for use if the signatures need to be notarized: Bill of Sale.

You may also find these links useful. The following link goes to the National Insurance Crime Bureau where you can put in a VIN that will be checked for fraud and theft at no cost. The link is www.nicb.org/theft_and_fraud_awareness/vincheck. You should do some research on the vehicle you are thinking about buying, check the VIN to make sure it matches the vehicle and of course make sure the VIN on the vehicle and title match.

The next link goes to Stolen Car Reports, another free service. At this site you can register a stolen vehicle. You can also search a zip code, city or area for the vehicles that were stolen from that area. The link is www.stolencarreports.com/report/Search.
Antique Plate Info Flyer Online
The council delegates have approved the flyer with information on antique plates and a link to it is online here: flyer opens to a new window. Council members and antique owners may print the flyer for their own reference or distribute it to those who own or are considering registering a vehicle as an antique. It will remain on the site for an undetermined time. Council delegates will review the effectiveness of the flyer at a later date.

1936 Ford Phaeton that is being restored

Nice running Ford pickup at the entrance to the museum
© 1999 - 2017 Car Club Council of Central Virginia, Inc - All Rights Reserved